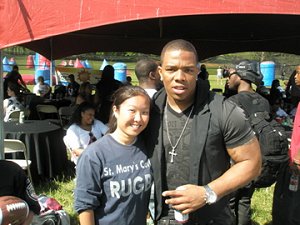 The Cruise Web got an opportunity to hang out with Ray Lewis, NFL Baltimore Raven's defenseman this past weekend.  The Ray Lewis Foundation hosted Ray's Summer Days, a summertime fundraising event in Baltimore.  Carnival Corporation is a sponsor to the Ray Lewis Foundation and our District Sales Manager, Kathy Donnelly extended some invites to The Cruise Web.
The event start with a VIP Kickoff party hosted by Patron at the Ruth Chris' Havana Club.  Assistant Manager Arthur Balin and wife, Yelena Balin represented The Cruise Web as they wined and dined with celebrities like Gheorghe Muresan and Sam Casell.
The next night was the Carnival Cruise Lines Celebrity Bowling Tournament.  Sales Managers Chris Roth and Mike Harris joined Kathy Donnelly from Carnival Cruise Lines as they took on celebrities and athletes like Ray Lewis, Jim Brown, and Willie VanDeSteeg.  Mike and Chris both battled for first place on the team, with Chris narrowly edging Mike "2nd Place" Harris 165-163 during the first match.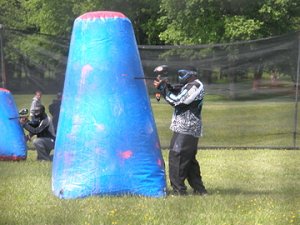 Lastly, we were invited to Pev's Celebrity Paintball Tournament and BBQ at the Lewis' Residence.  Sales Managers Mike Harris and Heather Wasson joined forces with a few other Carnival sellers.  The newly formed team of 5 had a blast while taking down the competition that included Ray Lewis, Lardarius Webb, Ray Rice and Reggie Howard.  Out of 5 games, they won 2… watch out for next year though.