Now That's a Hot Glass Show!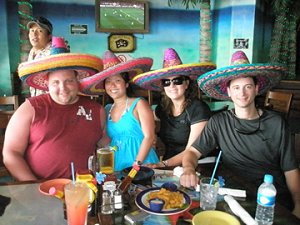 The Cruise Web is pleased to welcome back several Cruise Consultants from another educational Seminar-at-Sea cruise. Jacques Botty, Tina Colicchio, Jarren Matthews, and Heather Wasson represented The Cruise Web on the 7-night Western Caribbean cruise aboard the Celebrity Solstice. The cruise was a well deserved vacation for the group and we are glad to hear that they had a wonderful time, with Celebrity's glassblowing demonstrations proving especially memorable. Tina was kind enough to provide the following post about the hot glass shows performed aboard the ship:
I have been to a few renaissance fairs in my time and I have seen live glassblowing before. A good friend of the family is an amateur glassblower herself. For me, glassblowing was "been there, seen it, done that…" But my preconceptions about the art of glassblowing shattered right then and there. I became hypnotized by what I saw.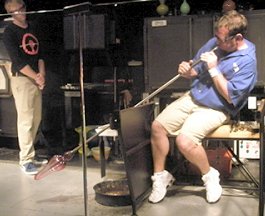 There were three young men on stage: Matt Decker, Gabe Bloodworth, and Eric Meek. One of them was doing the actual glassblowing, one of them was assisting, and the other was narrating what was going on over a microphone-headset. What struck me immediately were two things.
One was that each team-member knew, without any obvious verbal communication, what the other was doing. The assistant was always at the right place at the right time with exactly what was needed in the right amounts and proportions. The narrator described with perfect technical precision what the glassblower was doing. It was almost like they were following a script they had practiced a hundred times. The best way to explain it is that they had perfect chemistry with each other. Each seemed perfectly suited to his role.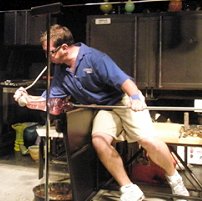 The second thing was that the glassblower was doing things that you could not do with glass! He made the glass come alive. The animated glass answered to his beck with the tiniest, most subtle manipulation. It was like watching Fantasia in real life. I had never seen anything like it. Every glassblower I had seen previously was clumsy and awkward in comparison. There WAS no comparison. I concluded that I was watching the very best glassblower in the world. I wasn't the only one,  either. Some of the individuals in the audience were practically fainting with astonishment. It was later revealed that all three men rotated between the roles of glassblower, assistant and narrator, making their performances even more remarkable.
I managed to catch most or all of their show every day on that cruise. When they had night shows, I even skipped the first half of dinner to see them (I was overeating, anyway…). They were, by far, the best entertainment on the ship. Even the team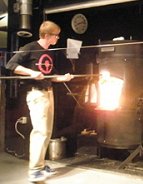 dynamic was quite gratifying to observe. They definitely held each other in very high regard, and all three of them were charmingly humble about their own abilities. But when it became their turn to play the role of "Gaffer" (master glassblower), they were showing off to each other, not the audience. Of course, the audience benefited from this; by being able to witness glassblowing at the elite level.
If any of the Celebrity Solstice-class ships are in your future travel plans, you are in for an unimaginable spectacle. The glassblowers' ability to invoke finished glass forms out of a molten liquid verges on magic. Against the backdrop of a new, beautiful ship with a such a worthwhile itinerary, this is one of those vacations you simply must experience for yourself.