By Julie Atkins, Manager of Client Services & Group Administration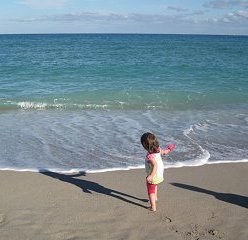 Taking a baby on vacation may seem more challenging than rewarding, and in my experience it's a bit of both. I always joke when I get back from vacation with my daughter that I need another vacation on my own! When Erin was six months old we decided to take her on her first cruise.
I chose Holland America because they had the most suitable itinerary, sailing on the ms Eurodam. When choosing an itinerary with babies or young children, the Caribbean is a very good choice. We visited St Thomas, Tortola and Grand Turk which are best known for their soft sandy beaches. We went for 7 nights and traveled in the month of December.
Eastern Caribbean Beaches
When you arrive at the ports of call, the best source of information is of course the locals. So we always ask them where the quiet, family-friendly beaches are and we are never disappointed.
One of the ports of call is Half Moon Cay, Holland America's private Island. They have an option to book a Cabana on the beach and I would highly recommend doing this. It allowed us to spend the entire day at the beach, it was air conditioned and stocked all day with soft drinks and fruit. They have comfortable cushioned lounges and exclusive waiter service. Priceless!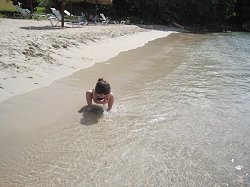 A favorite of ours is St Thomas. Although there are many beautiful beaches to visit, Emerald Beach is my #1 choice. It's a short five minute taxi ride from the pier which is important with an infant; the less travel time anywhere the better. Taxis are inexpensive and plentiful at the pier and they drop you off at a popular hotel on Emerald beach. The same taxis line up outside the hotel to take you back to your ship. This location was ideal because we were able to use the hotel facilities. The beach is soft white sand all the way out to the ocean and Erin was able to sit in the ocean as the sea is very calm. I have visited Emerald beach four times and it's never crowded — It's the perfect spot.
Grand Turk and Tortola also have some lovely quiet sandy beaches and the distances to travel to them are no more than about 15 minutes from the pier. The first time we went to Grand Turk we didn't venture too far and spent some time on the beach right at the pier where the ship docks.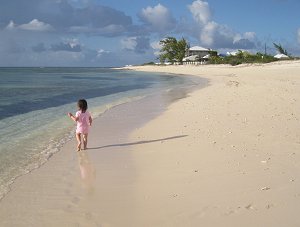 The beach sand is coarse, but we didn't mind since we just went straight into the sea for swimming. You can also get great photos with the ship in the background. The second time we went to Grand Turk we asked the taxi driver to take us to a nice quiet secluded beach. We ended up at Bohio Beach Resort which was incredibly beautiful and deserted. It's like a postcard with a white sand beach that just stretches right out to sea, the water so clear you can see the sand at the bottom. Although there are no chairs or umbrellas here, there is a nice beach bar and changing rooms.
St Martin has many beautiful beaches and we went to Coconut Grove. This is the place the locals will advise you to go with children because thebeach is shallow and safe for children to paddle in and out of. There is also a nice bar and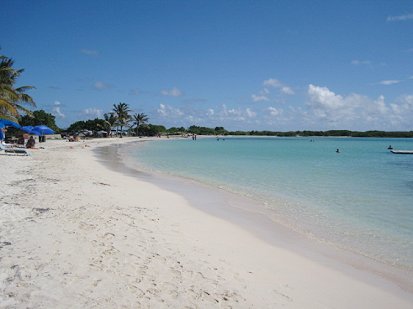 restaurant and it's not too crowded. It's quite a distance from the pier though (about 25 minutes in a taxi). We asked our taxi driver to remain with us while we were at the beach since we were only going to stay two hours as the temperatures can get really hot for children. When we were ready to leave we just called our driver and headed back to the ship. The taxi cost about $30 roundtrip for four.
Western Caribbean Beaches

Totally different but equally stunning and child-friendly beaches can be found on Western Caribbean itineraries. Our next cruise with our 1 ½ year old was Jamaica, Grand Cayman and Labadee on Freedom of the Seas. Once again we sought advice from the locals as we wanted a quiet soft sandy beach, shallow waters and changing facilities.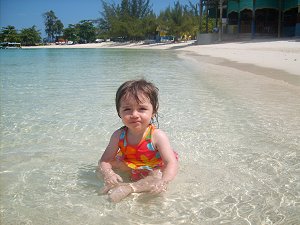 We hopped on a bus at the pier and were dropped off at Aquasol beach with just one other family. It's such a lovely stretch of beach — very safe and so deserted it felt like we had rented a private beach for the day. This was one of my most memorable beaches with Erin as she was able to feel very independent and be in the water on her own because it was so shallow and crystal clear — such a lot of fun and no-one else around for miles.
I wasn't too impressed with the beach at Labadee. When we arrived it was very confusing which way to go as there were several beach options. The first beach we went to was full of rocks and not at all child-friendly. After walking around quite a bit we discovered a slightly better, but still rocky beach that was easier to walk into. We just kept our beach shoes on in the water due to the rocks.
Last but not least is Grand Cayman and seven mile beach.  There are many facilities and a beautiful safe sandy beach — perfect for enjoying a fun day. It's easy to get to once you arrive at the pier as taxis leave one after the other. It's about $7 each way per person.
Although Cozumel is most likely known for Dolphin swims and activity based excursions, it does boast a fantastic family oriented beach at Paradise Beach. We had a Dolphin Encounter booked for 1pm so we wanted to find a beach we could all enjoy as a family (Adults, teenagers and toddler).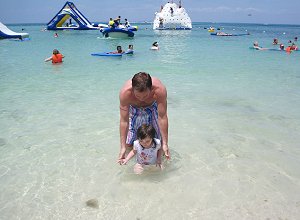 The locals advised us to go to Paradise beach which is amazing. It's a very shallow sandy beach and the ocean is filled with huge inflatable rock climbing walls, trampolines and lots of other imaginative inflatable toys for kids (and adults) to have lots of fun with. It's about 15 minutes from the pier and $5 per person in a taxi. Plus, Chankanaab national park, where the Dolphin swims take place, is about five minutes from this location. So it's perfect if you want to incorporate a beach into your Cozumel adventure. They also have a great bar serving food and even massages on the beach!
To sum it all up, cruising with children is such an adventure because each day you get to see different islands and experience all these wonderful sandy beaches that kids of all ages just love. We love to discover the unknown and less frequented beaches and remember, the locals know best.


Julie Atkins
Manager of Client Services &
Group Administration
The Cruise Web, Inc.