By Frans Hansen, President, The Cruise Web.
This month's Current theme, "cruise cuisine," reminds me of my first ever dining experience in a cruise line's specialty steak house.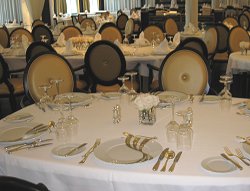 I was among a few guests invited to dine with one of a leading cruise line's corporate executives for an inaugural dinner aboard a new vessel that was debuting its first steakhouse at sea. Wow — while the company was terrific, the dining experience was even better!
I've always been impressed how cruise cuisine is far superior to hotel banquet cuisine in all respects: choice, quality, inspiration, preparation, presentation, ambiance, and service, to name a few.  And who couldn't possibly be a fan of the choice of dining venue options at sea? From room service to cafes, poolside snacks, buffets, the main dining room, and many more.
Still there was something extra special about this steakhouse experience. Although I suspected this as soon as I sat down and the waiter helped me unfold my napkin (no, I'm not napkin challenged – that's just special service), the knowing kicked in after a sampling of absolutely delicious appetizers.  However, it was the chanterelle mushrooms that locked this perspective up for me.
When I was a young boy, my mother introduced me to the yellow, funnel-shaped, slightly fruity and snappy chanterelle mushroom. Since they sold for about $20 for a little can, our family shared small sautéed prepared portions on special occasions.
To my delight, our waiter came by and offered each steakhouse guest a serving of these mouth-watering delicacies. To my even greater delight, he later returned offering another helping – one even more generous than the first. I was overcome by rapture when he returned a third time!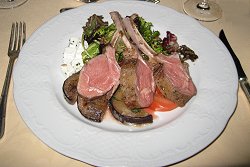 It was 107 or so mushrooms later, that I then first discovered I was allergic to mushrooms. However, no matter how many red dots appeared across my face that evening, I do not hesitate to say that it was completely worth it! This shipboard dining experience had rivaled my very best restaurant experiences from Washington, DC!
Today, specialty dining venues aboard cruise vacations are the norm, rather than the exception. While I know not everyone would ravish the chanterelle as I did, there are now more opportunities than ever before to sail away and relish your own epicurean delight!
Frans G. Hansen
President