"Cruisine" Experiences
A compilation from The Cruise Web employees.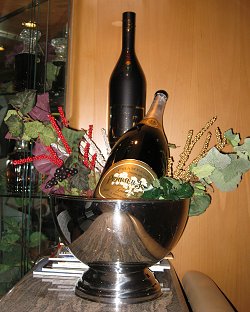 Whether it's a romantic candlelit dinner with champagne or breakfast in bed, indulging in cruise ship cuisine, or "cruisine," is always one of the most rewarding cruise experiences. No where else combines the unparalleled food, service, and atmosphere delivered with cruise ship dining, and no one knows this better than our veteran cruisers. We hope you'll enjoy reading as The Cruise Web's employees look back on some of their most memorable dining experiences:
Heather Wasson
The level of service and quality of food in the Crown's Grill was comparable to a Ruth's Chris here at 1/4 of the price!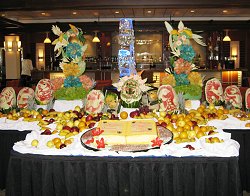 Check your daily newsletter for the midnight buffet.  It's a highlight of the trip!  Even if you're not hungry, go up for the show.  The chefs spend all day prepping food and making really cool displays.  It's amazing to see the watermelons cut out into works of art.  It's hilarious to see little creatures created from food.  I'm awed by how creative they are.
Mike Harris
There are literally hundreds of food options aboard any cruise ship.  It's funny that of all the exquisite and unique experiences that I've had aboard cruises, it's often the simple meals that stay with me.  One of my favorites dining memories took place on my balcony, rather than any of the dining rooms.  My wife and I left our room service order outside of our stateroom the night before.  The next morning, we woke up and enjoyed a traditional American breakfast while looking over the Italian coast line.  It was simple, it was easy (it was free), and it was everything that a vacation should be!
Julie Atkins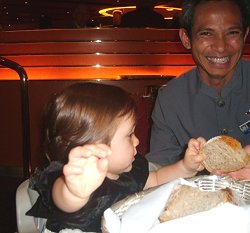 I loved the Eurodam, they catered really well for a 1 year old. Erin especially loved the Chef's mashed potatoes in Pinnacle Grill which is my favorite specialty restaurant of all the ships I have been on. Here is Erin sampling the bread and getting some personal attention from the Staff.
Melody Collins
The only experience I have is with Carnival Dream… and the duck was AWESOME!!!
Raquel Grinnell
The escargot at le Bistro on the newer NCL ships (like Gem, Pearl and Jewel) is fabulous! As are the sushi bars on same ships; the fried Tempura roll is to DIE for!
Karolina Shenton
During a recent cruise to Europe, my husband and I decided that on our first morning, we would take advantage of having room service brought to our balcony.  After enjoying fresh eggs, freshly squeezed juice, gourmet coffee, and freshly baked
croissants while watching the Baltic Sea wake up from a long nights sleep, I couldn't imagine the better way to start our day.  To say the least, we had 6 more breakfasts in the ocean air during that voyage, and I guarantee we'll remember every last one of them.
Corinna Crocket
On our last [Princess] cruise, my in-laws joined us, and my mother-in law is allergic to onions. The maitre d' was so accommodating (not to mention charming!) and he presented her with the next night's menu every evening so they could consult about what she could safely order without onions (or place a special request). We never had to remind him- just the simple request the first night prompted him to provide this great service all throughout our cruise!