Princess Revives Nostalgic Cruising Tradition with New Bon Voyage Experience
Courtesy of Princess Cruises.
Reviving a signature tradition from the early days of cruising, Princess Cruises debuts an innovative, new program giving passengers the opportunity to invite their friends and family aboard their ship on embarkation day to wish them "bon voyage" and get a taste of the onboard experience.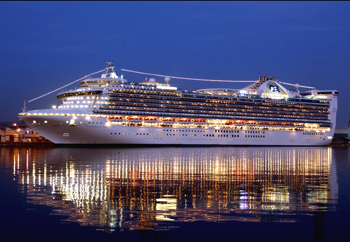 Called the "Bon Voyage ExperienceSM," the program is a new twist on the departure celebration of bygone days, when friends and family would routinely come aboard to see off passengers. Because of increasingly tighter security procedures, this practice disappeared more than two decades ago, but it's now back — complete with lunch in the dining room and tour of the ship.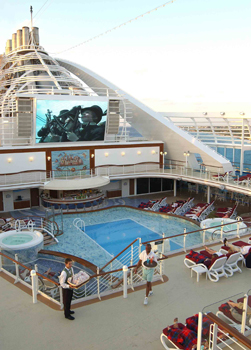 Unique in the cruise industry, the Bon Voyage Experience enables passengers to extend an invitation to their guests to join them onboard during sailing day for a four-course dining room lunch with wine, a ship tour and even a souvenir photo. Passengers and their guests can enjoy priority embarkation and will be able to spend approximately four hours together on the ship before it sets sail. The cost for the program is $39 per person, which can be applied toward a future Princess cruise.
The program debuted in early March in the ports of Los Angeles and Fort Lauderdale, and will roll out to New York, San Francisco and Seattle.

"Long-time cruisers will recall the fun of the bon voyage send-off with their family and friends, and we're excited to re-introduce a new, modern version of this experience," said Jan Swartz, Princess Cruises executive vice president.
The number of guests who will be able to participate in the Bon Voyage Experience on any given embarkation day will be approximately 50.
The schedule for the Bon Voyage Experience is:
Royal Princess — March 27 in Fort Lauderdale
Star Princess — April 10 in Fort Lauderdale
Caribbean Princess — May 18 in New York
Sea Princess — June 1 in San Francisco
During the Alaska season, Sapphire Princess, Golden Princess and Royal Princess will offer the program in Seattle, beginning in May.