Crystal's New Land Option Offers VIP Access to 150th British Open
Courtesy of Crystal Cruises.
For travel-savvy golf enthusiasts this summer, Crystal Cruises is introducing an ultra-exclusive opportunity to be a part of the ultimate competition in the birthplace of the game.  During the new three-night Extended Land Program from Edinburgh, Crystal guests will be treated to VIP access and the highest level of service at the 150th British Open Championship at famed St. Andrew's Golf Club, before joining Crystal Serenity's July 19 Black Sea voyage to Istanbul.
Besides the action on the links during the final two days of the championship, participants will enjoy full access to a private hospitality area with refreshments and open bar throughout the day, three-course lunch and traditional English afternoon tea.  Arrangements include five-star hotel accommodations in Edinburgh, a private driver and air transportation from Edinburgh to Venice.
"To attend such a renowned tournament at the oldest golf club in the world is a thrill for golf-lovers, and we're excited to offer our guests such a distinctive opportunity," says John Stoll, director of land programs.  "This program offers guests the ideal kickoff to a fantastic vacation, with the high standards of luxury and service they enjoy aboard our ships."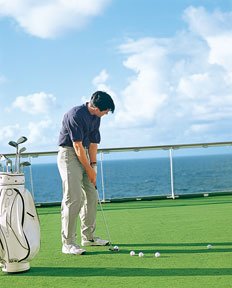 Following the British Open land program, Crystal Serenity's July 19, 12-day cruise sails from Venice July 19, visiting Katakolon and Navplion, Greece; Nesebur, Bulgaria; Yalta and Odessa, Ukraine, plus a maiden call to Sevastopol; and Istanbul, Turkey.  On board, golfers can perfect their own game in the ship's dedicated driving and putting areas, and get tips from Crystal's onboard PGA Pros Denise and Gordon Walker.