The Cruise Web Celebrates the Holidays with Cocktail Party
On December 17, 2009, The Cruise Web rang in the holiday season with its own Holiday Cocktail Party. The party, held at Fado's Irish Pub in Washington, DC, proved to be a huge success as co-workers shook off their work titles and spent the evening as friends.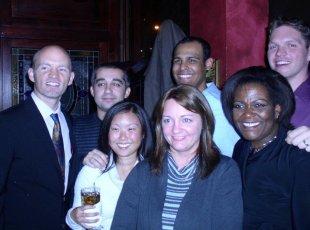 Frans Hansen, President of The Cruise Web, kicked the evening off by toasting the employees, thanking everyone for their hard work and dedication all year long. It was a fitting tribute to the heart and soul of The Cruise Web.
The fun environment of the cocktail party provided the perfect way to unwind after a hard day of work. While the fantastic food and live music made the night enjoyable, it was the great company that made it one to remember; all highlighted by several employees' attempts at traditional Irish dancing!
Here's hoping your holiday season was as special as ours!