By Arthur Balin, Asst. Sales Manager, The Cruise Web.
I cannot believe it has already been three years since our wedding on board the Crown Princess. Looking back, I must say that it was a truly great and stress-free experience.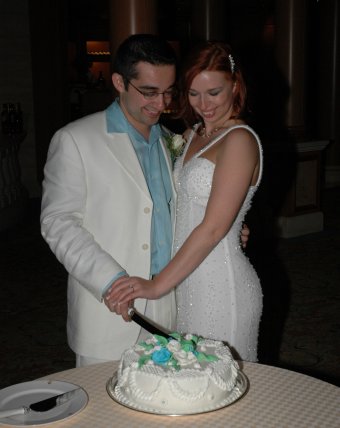 My wife Yelena and I knew at the onset that we did not want the big traditional wedding. Hosting such a big event and especially planning for it was not something that appealed to us. Having been in the cruise industry for a short while already, I knew how popular cruise ship weddings were. After doing some research, we agreed: there is no better way to celebrate our love than to get married in the middle of the ocean surrounded by our family and closest friends. We loved the idea as it gave us a chance to have the small, intimate wedding we wanted, allowed all of us (our guests included) to have a nice relaxing vacation, and the whole package was surprisingly affordable.
The planning process was unbelievably easy. First, it was important to choose the right cruise line for everyone involved. Although it was our wedding, we wanted our guests to have a wonderful time as well. We considered several cruise lines and decided on Princess as it really fit our needs nicely: large ship, plenty of things to do for adults and kids, as well as being able to get married while at sea by the Captain (how cool is that?!). After choosing the ship and itinerary (Southern Caribbean) and placing our deposit, there was not much to do until about a month prior to the cruise. That's when Princess' wedding department contacted us to take care of the details: types of wedding vows, flowers, cake, colors, music, etc., as well as a schedule of our wedding day.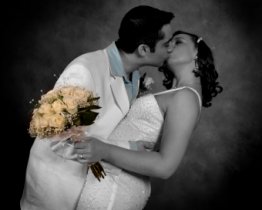 Finally, the big day was here! About 25 people joined us aboard the beautiful Crown Princess to celebrate the most special day in our lives. The wedding day went without a hitch as everything was planned to perfection by our onboard wedding coordinator. The ceremony itself took place in a beautifully decorated wedding chapel. The ceremony went by so quickly, and with a few laughs. The onboard photographer took many pictures that turned out absolutely magnificent, capturing special moments of our family, our friends and us. Some pictures were even artfully done using black & white film with pops of color.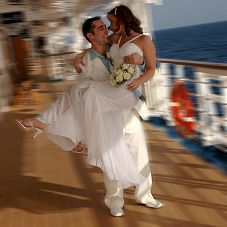 In order to make the day even more special we opted to have our dinner at Princess' specialty restaurant, Sabatini's.  The dinner was amazing and only cost $20 per person for a seven course meal – you really can't beat that!  What really made this dinner special was when each of our guests got up to toast us on this important day.  We were truly touched.  After dinner, all of us went out dancing at the club, which was a perfect way to end the evening.
All in all, everyone had a great time, and the cruise was just beginning!  Planning the wedding was easy; the wedding day was amazing and memorable; and best of all relaxing! Would you ever imagine lying by the pool and doing absolutely nothing the morning of your wedding?!


Arthur Balin
Assistant Sales Manager
The Cruise Web, Inc.
1-800-377-9383  EXT 311
arthurb@cruiseweb.com