The Cruise Web Says Farewell to October with a Halloween Potluck
The Friday before Halloween The Cruise Web held their annual Halloween Potluck as a fun way to say "Good Bye" to October and relax on a Friday afternoon. This year's spread proved to be one of the best ones ever.
Anchored by Raquel's now famous cheesecake squares and Jen's pulled pork, there was a plethora of new dishes to sample. Ron brought in his crock pot filled with Italian sausage, peppers and onions in a red sauce. Gloria brought in her chili, and Tina brought in gigantic cupcakes.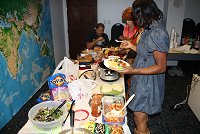 But that's not all. Rashell brought in wings, Adam quenched everyone's thirst with soda, Susan brought in her 7-Layer Cookies and Heather brought in bags of chips to complement the main courses.
Of course, with the holiday season upon us, it's only right that we share some of these delicious recipes with you. So here is Raquel's now famous Cheesecake Squares and Susan's "Magic Cookie Bars":
Crescent Roll Cheesecake Squares
2 pkg. crescent rolls
2 (8 oz.) pkg. cream cheese
1 egg yolk (separate egg and save white for later)
1 tsp. vanilla
1 c. sugar
1 egg white
1/2 c. sugar plus 1 tsp. Cinnamon
Instructions
PAT one package crescent rolls on bottom of 9 x 13 inch pan. Pinch seams together.
COMBINE the cream cheese, egg yolk, vanilla and 1 cup sugar and beat until smooth.
SPREAD over crescent roll layer.
SPREAD 1 package crescent rolls over cheese layer and pinch seams together.
BEAT egg white until foamy and brush on cake.
SPRINKLE 1/2 cup sugar and cinnamon until the top is mostly covered.
BAKE at 350 degrees for 30 minutes or until browned.
7-Layer Cookies
1 1/2 cupa graham cracker crumbs
1 stick of butter
1 cup of chopped walnuts
1 cup of semi-sweet chocolate chips
1 cup of butterscotch chips
1 cup of coconut
1 can sweetend condensed milk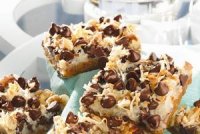 Instructions
MELT butter in 13 x9 baking dish.
SPRINKLE graham cracker crumbs over butter. Press with spoon.
LAYER walnuts, chocolate chips, butterscotch chips, and coconut over crumbs in that order.
POUR condensed milk evenly over dish.  Hint: Will pour smoother if  can is heated in warm water.
BAKE at 350 degrees for 30 to 40 minutes or until golden brown.
LET cool before cutting into squares or bars.