Shopping Treasures
Collected from the experiences of The Cruise Web employees.
There is something exciting about shopping while traveling. It is the physical act of being able to take a piece of the places you have visited with you.  This, of course, is a popular activity while cruising because your purchases turn into a physical map of the many ports and countries that you have visited along the way. 
Below is a great variety of ports, shops, cities, countries and vendors our cruise consultants have discovered to help you the next time you "make" your map.
Linda I., Senior Cruise Consultant
Silver Exposure, Cabo San Lucas.  There is a very unique silver jewelry here and it is designed by locals.  VERY reasonable prices and if you pay cash it's an additional 10% off.  I definitely helped her out.
John T., Senior Cruise Consultant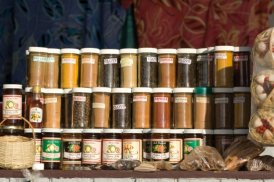 Whenever we go to the Caribbean, in any port you can find bottles of Vanilla.  Eastern, Western, Southern… they all have it and it is very good.  The bottles are usually decorated with a Caribbean theme specific to the country in which it was bought.  My wife has them displayed on our counter top.  She uses them for various recipes and they come out GREAT!!!
 Carol T., Cruise Consultant
My shopping treasures are rarely found in a store or shop.  I like picking up small paintings, sketches, and various other forms of artwork directly from artisans I encounter in nearly every port on every cruise itinerary.
Look for these folks in easily accessible public spaces or on sidewalks near prominent attractions.  Outside of the Hermitage in St. Petersburg I purchased two beautiful, small oils of the Church of the Ascension durin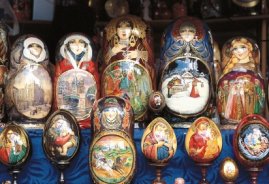 g different seasons.  While relaxing at the entrance to Catherine's Palace I bought handmade lace doilies from an ancient woman who spoke only enough English to proudly tell me she made them herself.  Inside the walled city of Tallinn, Estonia, on the cobbled streets, I found a man selling tiny framed oil paintings.  As I looked through them he stopped me and began pointing his finger to the surrounding view.  He was trying to show me he had painted it from the exact spot in which we were standing.  Yes, of course, I bought it.
I enjoy finding and supporting artists who have a passion for their work and want to share their talents with the rest of the world.  I don't expect to find an up-and-coming Picasso or an object that will appreciate over time, but what I will find is a great memento of my trip.  After all, a girl can only have so many refrigerator magnets…. 
Adam W., Cruise Consultant
Hilo Hattie is the largest shopping attraction in Hawaii and you can't miss it if you are cruising anywhere in the Hawaiian Islands.  The store chain is now located everywhere in the Aloha State and has grown into Hawaii's largest retailer, manufacturer and wholesaler of Hawaiian fashions and gifts.  At Hilo Hattie, you'll discover a large selection of Hawaiian fashions, gifts, souvenirs, t-shirts, home & beach accessories, beauty products, gourmet foods, and jewelry made in the Hawaiian Islands… a potpourri of Hawaiian fun!
Ellicia A., Accounting Coordinator
I had a great time shopping in Cozumel, Mexico.  When you are walking around window shopping they entice you to come in the stores by offering you Coronas and tequila shots.  I did not find this to be the case on the main drag near the pier, so just wander away from the main drag.  Just remember, don't have too many of those shots or you will find yourself carrying a few extra things that you did not plan to buy.  Also, they are used to hagglers so don't be afraid to ask for a lower price.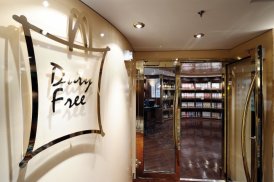 Another great shopping place is on the ships themselves.  They are all duty free and they have some great deals on perfumes, alcohol, cigarettes and jewelry etc.  On at-sea days they bring out tables and fill them with all kinds of jewelry and accessories.  They put out items that are not displayed in the onboard stores.  I found some really great deals on sterling silver rings onboard.
  Said D., Cruise Consultant


Egypt – Hand made furniture – Chairs, Coffee Tables, etc.  Also, rare musical instruments such as the Tabla Drum, Mandolin, and various string instruments.  Historical items resembling the sphinx, pyramids, etc.  Egypt is also known for their water pipes, papyrus paintings and paper.  Various mother of pearl items.  Tons of awesome things and most companies will ship to places all over the world.
Dubai – Cutting edge technology, gold market, and exotic cars.
Jordan – Dead Sea items – many additional Arabic knick-knacks…
Heather W., Sales Manager
Murano, Venice.  Murano hand-blown glass. 
Jen C., Senior Cruise Consultant
Rotorua, New Zealand – Rainbow Springs Sheep Farm
Port of Call: Tauranga, New Zealand
Best store in the country for wool products: hand spun wool sweaters, wool clothing / jackets / boots, lanolin lotions / soaps, etc.
Hilo, Hawaii – Volcano National Winery
Port-of-Call: Hilo, Hawaii
On the way to or from Volcano National Park.  Local winery that produces non-exported Pineapple Wine.  They have daily tastings and wine for purchase.  A great local product to take home and share with family and friends. 
Gloria H., Cruise Consultant
Honolulu, Hawaii – Swap Meet at Aloha Stadium
Just 20 minutes away from Waikiki, discover unique treasures at Hawaii's largest open-air flea market where the locals shop for the best deals in town.  It is Hawaii's premiere discount warehouse outlet.  Open three days a week, they offer endless rows of over 700 local merchants offering the best value on imported merchandise, handmade items, eclectic art pieces, popular local snacks, and other made-in-Hawaii products.  This is sure to be your one stop destination to find that special gift or souvenir for everyone on your list.
Athens, Greece – The Plaka


The Plaka is the oldest section of Athens.  Most of the streets have been closed to automobile traffic, though you should still keep a watchful eye for a speeding motorcycle or delivery truck.  Handcrafted Gold is inexpensive.  It's not that gold is cheaper in Greece, which is what some people are led to believe.  Gold is the same price everywhere, but labor in Greece is cheaper and there are terrific bargains to be found if you know where to look because Greek goldsmiths are among the best in the world.
Florence, Italy – The Central Market
One of the liveliest markets is the San Lorenzo market that stretches over a labyrinth of medieval streets that encircle San Lorenzo church.  The street market runs daily except Sundays, from 7:30AM – 7:00 PM.  You'll find leather goods, clothes, and souvenirs.  As part of this market, you'll find the fruit and vegetable market in the nearby piazza del mercato central.
You'll also find a flea market near Piazza delle Pulci. Open from 9:00AM – 7:00 PM, you'll find all kinds of interesting items for sale, and maybe a precious antique or two.
Marrakech, Morocco – The Souks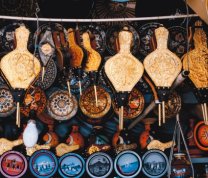 Marrakech and its inner city square Djemaa El Fna are immediately fascinating to any visitor.  The square around which the city is centered is easily the most alluring of any African market.   Bartering is a must, but if you make an offer, be prepared to buy.
Stalls of date and nut sellers and orange-juice squeezers line the perimeter like ordered tiles, with the mosaic in the middle made up of a mixture of traders, food stalls, entertainers, Moroccan revelry and tourists.  Snake charmers flute their tunes and whirl their heads, more to attract the crowds than to hypnotize the snakes.
Leading off from the square are the countless alleyways of the souks.  Everywhere in these souks people are bartering, buying and selling.  Wonderful arrays of herbal medicines that will cure anything from baldness to impotence will be s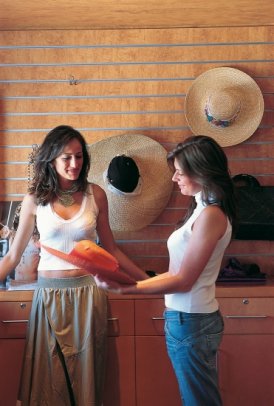 old alongside the latest clothing.  Blaring music stands trade next to century old carpet stalls.  Vegetable, leather slippers and curio stalls vie for shoppers' attentions.  People stand over huge boiling cauldrons dyeing wool whilst their neighbors measure out spices on old lead scales.  Most bartering is done over a cup of sugary mint tea, with chat of family and country giving one an intimate look into the stall owner's life.
At the end of the evening, the main attraction of the square becomes food.  Illuminated by the large lanterns, open-air stalls offer big bowls of couscous with lemon and almond chicken, or a crackling hot bowl of snail soup.  Musicians pluck away at their three stringed guitars while storytellers keep the locals entertained.
Cape Town, South Africa – Green Market Square
Cape Town Green Market square is a place full of a variety and strange things to buy.  It has a very friendly vibe and is packed with interesting African curios and hand crafted works of art.  It's open every day so plan a visit when you are in Cape Town.
Beijing, China  – Chang An Avenue
There are many shops along this wide street.  The major department stores inside the Chang An Mall can be a great value for those who like the high-end items but not the USA prices.
Do you have any shopping treasures?


The Cruise Web, Inc.
reply@cruiseweb.com
1-800-377-9383