My Favorite Places to Shop When I Cruise
By Jennifer Crivelli, Cruise Consultant, The Cruise Web.
Two of my favorite places to shop when I cruise are the Caribbean and Mexican Riviera. In addition to the warm sun and sandy beaches, I love the great shopping opportunities that are in each destination. So, what is there to buy in the Caribbean and Mexican Riviera? It all depends on where your cruise takes you.
St. Thomas, US Virgin Islands and St. Maarten, Netherlands Antilles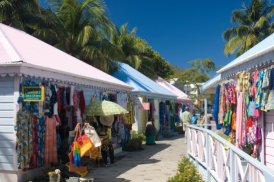 These two Eastern Caribbean destinations are a Mecca for jewelry shopping. Whether you are looking for diamonds, precious gem stones, or watches – there is a wide variety of stores in each of these ports-of-call that will vie for your business.  Also, check out the following jewelry stores for unique items, found only in the Caribbean: St. Thomas – Bernard K. Passman, home to hand carved black coral jewelry; and in St. Maarten – Majesty Jewelers, home to the Kabana Collection, gorgeously inset mother of pearl.
St. Thomas is known as the "Diamond Capital" of the Caribbean.  The island has an amazing selection of loose and set diamonds straight from the mines in Africa.  It's no surprise that more engagements take place on the night that ships are docked in St. Thomas than any other island in the Caribbean!
Barbados and Jamaica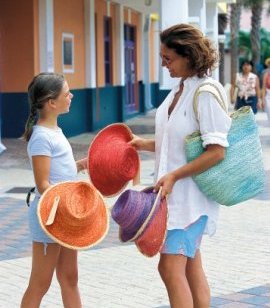 Jamaica and Barbados are home to many rum distilleries. In Jamaica, you'll find the Appleton Estate distillery, which has been blending rums since 1749.  And what really makes the deal is the friendly pricing. When you buy imported alcohol in the U.S., there are fees and taxes that get tacked onto the purchase price, but when you're buying directly from the source there are no additional fees and taxes!
Any port in Mexico (Cozumel, Puerto Vallarta, Cabo San Lucas, or Mazatlan)
Mexico is known for its tequila and its silver jewelry.  The best part of shopping in Mexico – the haggling!  Never pay the original price for jewelry in Mexico.  In most cases if you start to walk away, the price will drop!  If you are a fan of the silver with opal and tanzanite jewelry, head to the Golden Zone when you first arrive.  The streets are full of jewelry stores that sell a variety of this very popular Mexican favorite.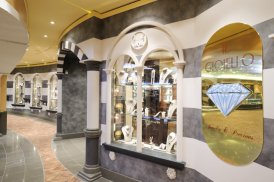 Are you looking for something particular?  Don't worry about trying to research before you go.  All the major cruise lines have Port and Shopping Guides who are helpful in finding the best store to purchase specific items.  Many will even give you a VIP card and a specific sales associate to ask for, in order to maximize your shopping time in port.  For serious shoppers, the Port and Shopping Guides host a seminar on board highlighting the shopping in each port of call.  If you don't want to leave the comfort of your stateroom – don't worry!  The seminar will play on your stateroom TV on the Port and Shopping Channel.
Can't find what you like ashore? Try the shops onboard!  From jewelry to perfume to liquor to cigars – the onboard shops sell it all.  Keep an eye out in the daily onboard newsletter for seminars, raffles, and sales.  The Shops On Board open approximately 30 minutes after the ship departs, once the ship reaches international waters.  Everything purchased on board is also Duty-Free.
With all these options available, why go to the mall anymore?  I would much rather shop in a warm tropical climate than fight the crowds to find a parking space at the local mall!  Are you ready to leave yet?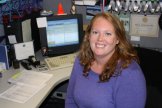 Jennifer Crivelli
Cruise Consultant
The Cruise Web, Inc.
1-800-377-9383 EXT 234
jenniferc@cruiseweb.com