by Heather W., Sales Manager
Two years ago I was fortunate enough to take the tour portion of a Europe Cruisetour offered by one of our preferred partners. Beyond the sights, sounds, smells and tastes I encountered, what struck me the most was how much value was incorporated in the tour portion of the Cruisetour.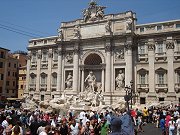 For those of you not familiar with Cruisetours, a Cruisetour is a cruise plus a land tour of a specific region which occurs before or after a cruise. In Europe, most Cruisetours happen in the order of tour then cruise. Cruisetours are a great way to get a more in-depth vacation experience which, in Europe, means more history, more sights and more chances to eat incredible food!
Below is my Top 10 list of items where I found the most built-in value from the tour I took through Venice, Rome and Florence.
1. Language. I don't speak Italian and I had trouble understanding what was going on sometimes and what the local people wanted, whether it was talking to a waiter at a restaurant or trying to negotiate a good deal at the markets. Our tour guide Mary-Agnes made everything so easy and was a fantastic translator. I couldn't imagine being there by myself and trying to survive.
2. Escorted.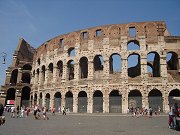 Most Europe Cruisetours have tour guides that stay with you throughout the entire tour. Which means there was no thinking involved in the trip; it was so easy. We could really enjoy the destinations and make the most of what little time we had there. Mary-Agnes (our tour guide) knew everything; the best places to eat, great places to shop, and things to do. Plus, when we wanted to do an optional tour, she put everything together (the transfers, the tour, etc.)
3. Exclusivity. A lot of tour companies will allow clients to come and go as they please; doing whatever parts they want, so within your personal tour you wouldn't be able to make close relationships with other tourists and you'd see different people all the time. Cruisetour groups are exclusively for the patrons going on the cruise following the tour. These are very small, about 10 people, but can include up to 40 people per tour manager.
4. Luggage. We didn't have to worry about any luggage. No dragging it around, no watching it to make sure no one steals it, no worries. Venice has cobblestone roads and many bridges to cross the canal. I can only imagine trying to wheel my luggage through the city to get to the hotel and it getting stuck every two seconds and then having to carry it half the time to cross the bridges. Plus it was hot there. Not that wheeling a suitcase is hard work, but the extra weight and picking up and down is not something I would enjoy.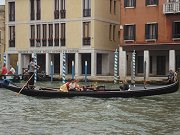 Then imagine dragging your luggage through a crowded train station and bumping into people while trying to figure out where you're going – trust me it didn't look like fun for those people. We just put our luggage outside our rooms and people picked them up for us and delivered them to our next hotel room. Talk about hassle-free convenience!
5. Tours. Since we were a group, we had great tour guides who were experts of their city. August is a busy time in Italy and there were long, long lines. Even at 8:30 in the morning, there was a two hour wait to get into the Vatican City. As a group, we bypassed all the lines! Imagine how much time we saved, so we could really maximize our time.
6. Hotel Location. The hotels we stayed in throughout the tour were local hotels that were situated right in the middle of the mix. With our free time, we could just start walking; everything close-by. By contrast, some of the larger, name brand hotels were situated outside of city centers. Thus you'd be reliant on public transportation and have to follow a schedule – boo! And I was able to get some exercise – much needed after all the eating!
7. Transportation. Throughout the tour, we took buses and trains to each city and didn't have to pay for it! Transportation between the cities was included in the price of the Cruisetour.
8. Flexibility.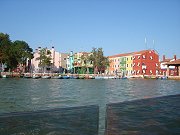 Most escorted-tour vacations tend to have a very rigid schedule. Your activities and sightseeing is preset and if you aren't scheduled to hit a specific attraction, you're probably not going to see it. On a Cruisetour, there is ample flexibility built into the schedule. There were a few afternoons during the tour where we had nearly the entire afternoon to go sightsee and explore places on our own.
9. Exchange Rate. Cruisetours are a package deal that you buy in US dollars, which means you aren't subject to the currently weak exchange rate of US dollars to Euros. This translates into savings on the tour portion of the Cruisetour, which, if you planned as a separate vacation prior to your cruise, would end up costing you even more after the exchange rate was applied.
10. Cruise. After the tour portion, you get to go on a fabulous cruise! You get to see even more cities and ports throughout Europe and relax as your "hotel" floats you your next destination.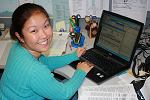 Heather Wasson
Sales Manager
The Cruise Web, Inc.
1-800-377-9383 ext. 284