The Cruise Web Managers Go Prospecting at UMBC Career Fair
by Chris R., Senior Manager of Sales and Client Services
On Wednesday, October 7th, The Cruise Web attended the University of Maryland Baltimore County (UMBC) Career Fair. This particular career fair featured over 100 companies from across the region. 
We were very impressed with the level of talent the UMBC students and alumni possessed. Many economic reports mention that this is one of the toughest job markets that college graduates have ever faced.
Being eager to bring in bright individuals to expand and diversify The Cruise Web team, we were there to help these "concerned" students.
The Career Fair brought in a wide variety of students, ranging from those who were graduating in December to those who aren't graduating until 2012.  There was also a steady stream of UMBC Alumni who visited our table.
We came away from UMBC's Career Fair with a very favorable impression, several good candidates and resumes of several future Cruise Consultants.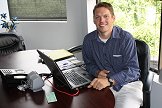 Chris Roth
Senior Manager of Sales and Client Services
The Cruise Web, Inc.
1-800-377-9383  ext. 282