By: The Cruise Web, Inc.
Ship tours are one of the many educational opportunities offered to Cruise Web employees. When the different cruise ships come into port, we have a chance to go on board and take a guided tour. This is specifically a great opportunity to learn about ships that travel around the world!  As you can imagine, it is an entirely different experience than looking at deck plans and computer generated images on the Internet. This is our chance to see, hear, smell, and especially taste (food, of course) the real experience of a cruise ship.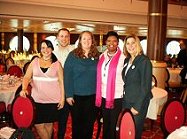 Our most recent opportunity was this past Friday (October 16) to tour the Celebrity Constellation, leaving out of Bayonne, NJ. We arrived at the port ahead of schedule, parked, and checked in. Boarding the ship was an experience in itself as we were each greeted with a glass of champagne as we began our tour. First, we decided to explore the staterooms. I was not surprised to find that even the interior rooms seemed comfortable, as Celebrity is a cruise line known for a relaxing feel throughout the fleet.
Next, we had the chance to see some of the many common areas, including the Celebrity Theater and Martini Bar. One of my favorite spots was Michael's Club, an absolutely beautiful lounge that showcases performances on a grand piano while you sit back, enjoy a drink, and get to know the people you will be spending the next week or so with. A fellow consultant Josh commented to me that "the ship had a nice upscale atmosphere to it, along with nicely matched colors, light setting and design." I could not find any space to argue with him – the ship was beautiful!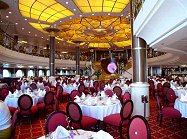 After some exploration of our own, we all met up in the main dining room for a luncheon, where we had the chance to experience the impeccable service and food that Celebrity is known for. I sat down and the waiter unfolded my napkin onto my lap and handed me a menu. With so many delicious options, it was difficult to decide on what to order!
After lunch, we regretfully had to leave the ship so it could continue on its journey through Canada and New England.  We got back in our car and enjoyed the ride home with our stomachs full and a brand new inventory of knowledge we could relay to our clients. As cruise experts, we can tell people all there is to know about cruising, but there is a difference between knowing and experiencing. These ship tour opportunities ensure that we can tell you from personal experience why one ship or another is your best fit!



The Cruise Web, Inc.
reply@cruiseweb.com
1-800-377-9383