The Cruise Web Consultant Makes Comedy Debut in NYC
On October 1, The Cruise Web's own cruise consultant Said (sigh-eed) D. made his comedic debut at the Broadway Comedy Club, located in the heart of Times Square in New York City.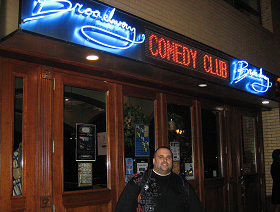 Said was selected to be part of the "Big Brown Comedy Hour," a comedy that features upcoming Arab, Indian, Iranian, Pakistani comedians. The show was hosted by Aasif Mandavi of Comedy Central's "The Daily Show" and showcased comics from major network television shows and blockbuster Hollywood movies. He was offered the opportunity by the producers of the show, whom Said had gotten to know through an audition six months earlier.
Said went on stage midway through a show packed with regular headliners and had about eight to ten minutes on stage.  The crowd enjoyed Said's act –  which he describes as "observational comedy" (think improv) – so much that producers from the "New Jersey 1001 Laughs" comedy show asked him to be a part of their show the very next night!
"Comedy and making people laugh can be difficult if you want it to be. If I stay true to myself and stop thinking about what would make them laugh versus what I find funny, then it comes naturally. Each person has their own reason to laugh, and it is my mission to find common ground then deliver on that, so they are entertained. Maybe this is why I enjoy my job so much, each individual has a different definition of vacation… my job is to find the cruise that matches that definition and deliver it."
As for his future in comedy, Said is taking it one gig at a time. After all he does have his past and future clients to consider!


The Cruise Web, Inc.
reply@cruiseweb.com
1-800-377-9383