Princess Announces Winners of 10th Annual Alaska Shore Excursion Awards
Courtesy of Princess Cruises.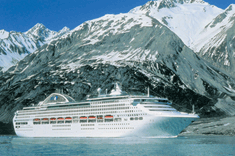 For the tenth year, Princess Cruises is ending the Alaska season by recognizing top-rated local tour operators with the line's C.R.U.I.S.E. service awards for best shore excursion experiences, based on passenger feedback.
The annual awards, which underscore the important role that Alaska and Northwest tour operators play in a passenger's cruise experience, celebrate the most popular tours, individual guides and dock representatives in the communities where Princess ships call. Win

ners are determined primarily by tour scores and comments made on passenger surveys throughout the season, and are chosen from the extensive line-up of more than 200 Alaska shore excursion options offered on Princess ships.

"The local tour operators who provide tours to our passengers really contribute to the overall Princess experience in Alaska," said Charlie Ball, president of Princess Tours. "So many visitors rave about their adventures in port, and these awards recognize the role of our shore excursion providers and thank them for making the Great Land experience extra special for our passengers."

The C.R.U.I.S.E. program is the longest running customer service program in the cruise industry. The Alaska awards were begun in 2000 and cap off a season-long effort to recognize the role that Alaskan-owned tour partners play in passengers' cruise experiences. Tour Guide of the Season and Dock Representative of the Season award winners receive $100, a letter of commendation, a plaque, a ship tour and lunch onboard with their family. Operators of the Shore Excursion of the Season receive a plaque and a letter of commendation, a tour of the ship, and lunch onboard for company officials.
The 2009 winners include:
Icy Strait Point:
Shore Excursion:
ZipRider Adventure, Icy Strait Point
Tour Guide:
Dottie Johanson, Icy Strait Point
Juneau:
Co-Shore Excursions:
Helicopter Glacier Walkabout, NorthStar Trekking
Rainforest Canopy & Zipline Expedition, Alaska Canopy Adventures
Whale Watching & Wildlife Quest, Allen Marine Tours
Co-Tour Guides:
Julie Kinamore, Alaska Zipline Adventures
Stacy LaMascus, Gastineau Guiding Company
Dock Representative:
Nathan Barzee, Allen Marine Tours
Ketchikan:
Co-Shore Excursions:
Bering Sea Crab Fishermen's Tour, Commercial Fishing Adventures
Misty Fjords Seaplane Exploration, Promech Air and Taquan Air
Rainforest Canopy & Zipline Expedition, Alaska Canopy Adventures
Co-Tour Guides:
Bob Haskell, Lighthouse Excursions
Kurt Trennert, Snorkel Alaska
Dock Representative:
Jill Gates, The Great Alaskan Lumberjack Show
Kodiak:
Shore Excursion:
Best of Kodiak, First Group
Tour Guide:
Dee Ann Valdivia, Kodiak Tours
Seattle:
Shore Excursion:
Best of Seattle, Gray Line of Seattle
Seward:
Shore Excursion:
Resurrection Bay Wildlife Cruise, Kenai Fjords Tours
Tour Guide:
Nick Allen, Sunny Cove Sea Kayaking Company
Skagway:
Co-Shore Excursions:
Chilkoot Trail Hike & Float Adventure, Chilkat Guides
Glacier Discovery by Helicopter, TEMSCO Helicopters
Klondike Rock Climbing & Rappelling, Alaska Mountain Guides
Co-Tour Guides:
Jessica Blick, Chilkat Guides
Nicki Bunting, Skagway Street Car Co.
Dock Representative:
Brian Hart, White Pass & Yukon Route
Valdez:
Shore Excursion:
Columbia Glacier Cruise, Stan Stephens Cruises
Tour Guide:
Laura Hering, Pangaea Adventures
Vancouver:
Shore Excursion:
Vancouver Overview, Horizon Coach Lines
Tour Guide:
Michael Lawrence, Rockwood Adventures
Victoria:
Shore Excursion:
Enchanting Butchart Gardens, Gray Line West
Tour Guide:
Norman Archer, D'Costa Ports of Call
Whittier:
Shore Excursion:
Blackstone Glacier Adventure Cruise, Prince William Sound Cruise & Tours
Tour Guide:
Megan Davis, Alaska Sea Kayakers