The Cruise Web Launches Gift Certificate Program
The Cruise Web is pleased to present its first Gift Certificate Program! (*sound of people cheering*)
Our Gift Certificate Program enables you to give the gift of a cruise, or cruise related amenity, to your uncle for his birthday, your sister for her wedding, your wife for your anniversary or anybody else who you know would enjoy The Cruise Web Gift Certificate.
Our Gift Certificates are available in any denomination and can be used by anyone for anything cruise related.  From spa treatments, to shore excursions to a free cruise compliments of you, The Cruise Web Gift Certificate gives you the flexibility of offering that special someone (or someones) a wide variety of gifts that they will surely be able to use and enjoy on their next cruise.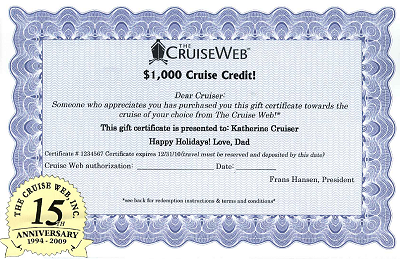 For more information about our new Gift Certificate Program, call one of our knowledgeable Cruise Consultants today!
The Cruise Web, Inc.
1-800-377-9383