My First Christmas Cruise
Never in a million years would I ever think of spending the December holidays any place other than at home…..  until last December when my family spent Christmas on the Ruby Princess.

When I first made the reservations I had second thoughts.  I wondered how other family members would react without us there, at home.  Would my two teenagers miss spending Christmas morning  in their Bethesda, MD home?  Would it really "feel" like Christmas being so far away from home?
Once I placed the deposit, which is always the hardest part, I focused on the benefits of spending Christmas on a cruise ship such as:
1. Total relaxation
2. Warm weather
3. Escape from overcrowded malls
4. Having someone else cook, clean and wait on you 24/7
5. December sun-kissed cheeks
6. Spending wonderful family time together – stress free
7. No disappointing expectations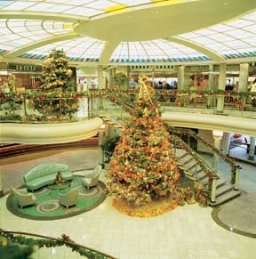 A couple of weeks before, we did put up decorations and as the departure date approached we were getting more excited about leaving.  (The only stress we had was finding a temporary home for our beloved animals while we were away.  Once this was accomplished, we couldn't wait to board the plane.)
While approaching Fort Lauderdale by air, we could see our ship.  I remember stepping out from the plane and feeling the welcome Florida humidity, which immediately made all of us smile.
The ship was beautifully decorated, and the staff were dressed with holiday cheer.  It amazed me how many families were on board.  Our 16 and 17 year olds met many friends who they still keep in touch with today.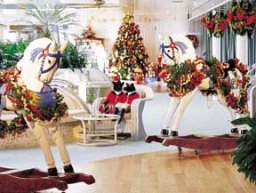 Instead of worrying about wrapping presents and last minute trips to the Mall, wondering which family member was bringing what for the Christmas dinner and arguing over what time everyone would be ready to eat, etc., the four of us spent Christmas Eve being wined and dined in a beautiful dining room with 5 servers waiting on us hand and foot.
Afterwards, passengers gathered around the reception area singing Christmas Carols and watching live performers.  Christmas Day, Santa actually did come with all his elves and helpers.  There were workshops for the younger children and more live performances with singing and dancing.  There was an 11AM Christmas Mass in the ships Theater.

It was interesting going to the different Islands and listening to their versions of Christmas Carols and learning about each of their holiday traditions.  We felt the "Christmas Spirit" on and off the ship, which is really what the holiday is all about.
This year, even more family members will be joining us on our 2009 Cruise Holiday Adventure.  If you ever dreamed of taking a holiday cruise, now is the time to confirm your reservations.  Prices have never been lower and if you call now, large family – cabin accommodations can be reserved on some of the most desirable cruise itineraries.
Trust me… it will be one of the best decisions and most memorable holiday you and your family will ever spend.  Looking forward to speaking with you soon!
All the best!


The Cruise Web, Inc.
reply@cruiseweb.com
1-800-377-9383