Enjoying Thanksgiving at Sea
By Sherry Jefferson, Cruise Consultant, The Cruise Web.

In 2006 I earned a free cruise by successfully graduating from Cunard's Commodore travel agent program. Not having sailed Cunard before I was eager to receive a complimentary cruise and set sail aboard "The Most Famous Ocean Liners in the world."
When the announcement came out about the complimentary cruises, I jumped at the first sailing I could find, which turned out to be a Caribbean sailing aboard the Queen Mary 2. The sail date was Nov 21, 2008 and it was only then that I realiz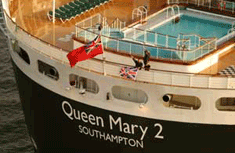 ed I would be away over Thanksgiving.  Hmm, what to do now?  I always spend Thanksgiving with my family, either at my home or in New Jersey with my sister. It happens to be one of my favorite holidays with all of the special dishes that we have. There must be at least 10 or 12 sides, all very "low cal" of course, to say nothing about the hors d'oeuvres that we start out with in the afternoon.
After agonizing about this for oh, all of ten minutes, I decided that being away for the holiday, while different, would still be nice.  I was curious to see how it would be handled aboard a ship, especially a British one.

We set sail out of New York harbor and there was a large contingent of passengers from all over the world, many Brits who had actually come over on the previous transatlantic and were then continuing on with this sailing, and many more American families who thought that being away together was a new tradition they could start for celebrating the holiday.  It was a very multi-generational event, with grandparents, aunts, uncles, and cousins.  There was one family of 14 that were all together to celebrate.  When you think about it, what better way could there be to celebrate Thanksgiving, or even Christmas for that matter?  The whole family can be together, no one person has to bother with cleaning, shopping and cooking, and of course the dreaded cleanup.  The kids aren't whining that they are bored, and everyone can do their own thing during the day and then be together in the evening for dinner.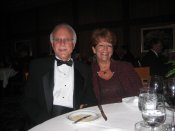 On Thanksgiving day the evening menu had listed as a choice Traditional Thanksgiving Roast Turkey, Chestnut & Apricot Stuffing, and Natural Gravy.  This was of course in addition to the four other entree options that were available. Of course we all had the turkey as well as one of the other selections.  The Pumpkin Cheese Cake with Cranberries and Cinnamon Crumble, Maple Toffee Sauce finished of the meal while trying to incorporate all of the holiday basics.  I found it interesting in speaking with fellow passengers the following day at breakfast and lunch, that most of the Europeans also selected the Thanksgiving dinner to experience our holiday.  It was also nice to see that the staff was preparing the ship for Christmas immediately following.  Garlands were being strung along the majestic staircases, trees were being decorated, everything was taking on such a festive look, I hated the thought I had to leave in two days.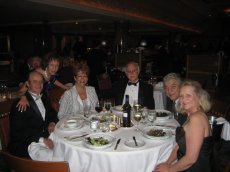 I have noticed over the years how more and more families are electing to go away for these seasonal holidays.   What better gift can parents give to their children than the gift of memories? The toys get opened and discarded after a few days, and then forgotten, but the joy of being with family while seeing new places lives on forever.  Even if at the time it appears that the kids are too young to care, they really do remember the special times that they shared and the new places that they have seen. Years later when looking over all of the pictures, there will always be a smile on the faces of those who were fortunate enough to receive the gift of travel.  So start now in creating your own family traditions and think cruising for the holidays instead of going to grandma's.
Sherry Jefferson
Cruise Consultant
The Cruise Web, Inc.
240-487-0155 ext. 307
1-800-377-9383 ext. 307
sherryj@cruiseweb.com