The Cruise Web Cruise Consultants Spend a Day as #1 Fans
On August 7, thanks to one of The Cruise Web's clients, two of The Cruise Web Cruise Consultants Jen Crivelli and Adam Wolf were able to attend a practice session of their favorite NFL team The Baltimore Ravens.
The practice session took place at the Ravens' training field at McDaniel College in Westminster, Maryland, the Ravens' usual pre-season spot. Jen and Adam arrived around 11am for the Ravens' morning practice session. As they watched the likes of Joe Flacco, Todd Heap, Ed Reed and the rest of the Ravens team run through their plays, Cruise Consultant Jen Crivelli was approached by CBSSports reporter Clark Judge to be part of a CBSSports exclusive "Ravens: 1 Man 1 Fan" video where Jen was able to share her excitement and hopes for the 2009-2010 Ravens season.
After the morning session, Jen and Adam were able to get some photos with Ravens quarterback Joe Flacco, safety Ed Reed and tight end Todd Heap. Jen and Adam had this to say about their photo-friendly players:
On Ed Reed:
"Quarterbacks and wide receivers fear him, and he is always a threat to turn a defensive play into a touchdown in a hurry." -Adam
"I'm very impressed by Ed Reed. He's like a wrecking ball on the field – don't get in his way!" – Jen

On Todd Heap:
"He plays tight end the way it is supposed to be – he can make the big plays down the middle and block well." – Adam
"I've been a fan of Todd Heap since his first season with the Ravens." -Jen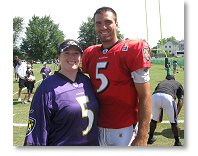 And on Joe Flacco:
"Joe had an amazing Rookie season last year, and I can't wait to see what he can do this season with one year under his belt." – Jen
After the quick photo op, Jen and Adam returned home excited for the start of the 2009-2010 Ravens season.


The Cruise Web, Inc.
reply@cruiseweb.com
1-800-377-9383