Princess Rolls Out Red Carpet for New Leonard Maltin Movie Club
Courtesy of Princess Cruises.
Five years after revolutionizing movie-going at sea with its innovative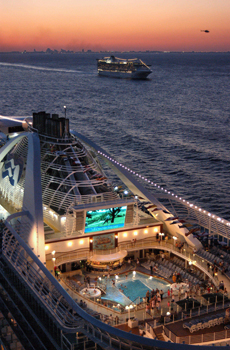 Movies Under the Stars screens, Princess Cruises has teamed with celebrated film critic and historian Leonard Maltin to bring passengers yet another new way to experience movies onboard — an exclusive Leonard Maltin Movie Club. Debuting fleetwide, the new club gives passengers the opportunity to join fellow film buffs to discuss specially selected motion pictures during their cruise.
With this program, Princess will showcase a new film chosen by Mr. Maltin each month. Passengers will not only be able to enjoy the open-air poolside Movies Under the Stars viewing experience, but will also be able to gather for a thought-provoking discussion to gain greater perspective on the film.
In addition, passengers can catch up on many popular and classic films with a new Leonard Maltin Movie Channel available in staterooms.
The new partnership celebrates the fifth anniversary of Movies Under the Stars, which first debuted on Caribbean Princess. The giant Times Square-style movie screens are now available on eight ships, and will be added to most other ships in the Princess fleet by 2011.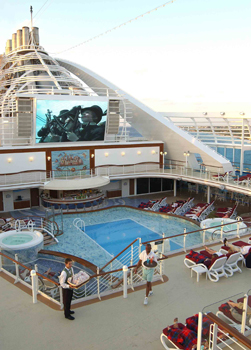 "For many people in this country, there's no more recognizable movie expert than Leonard Maltin," said Jan Swartz, Princess Cruises executive vice president. "Given the popularity of Movies Under the Stars, we know our passengers love watching films, so it's a great opportunity to enhance the experience by featuring Mr. Maltin's expertise with this new movie club and dedicated movie channel."
The Leonard Maltin Movie Club invites passengers to view a specially selected film on Movies Under the Stars or in the Princess Theater. Each month, a new movie will be featured, with a special video introduction from Mr. Maltin. Soon, films will be announced prior to the sailing, so passengers will know what Movie Club selection will be presented on their cruise. Upcoming films include titles such as "The Curious Case of Benjamin Button," "Slumdog Millionaire" and "The Wrestler."
Later, the cruise staff will host a gathering for passengers featuring a group discussion of the film, guided by questions and trivia from Mr. Maltin. The one-hour club meeting is open to all passengers.
For passengers who want to further enjoy films in their stateroom, the Leonard Maltin Movie Channel on the ship's television system will feature a selection of contemporary, classic and animated movies specially selected by Mr. Maltin.
As part of this new relationship with Princess, Leonard Maltin himself will be traveling aboard a Princess ship to share his movie insights with passengers in a series of onboard presentations, and to host the Movie Club. Mr. Maltin's sailing will be announced at a later date.
Leonard Maltin is one of the country's most recognized and respected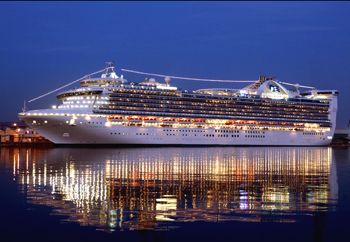 film critics and historians. He may be best known as the resident film buff on the popular syndicated program "Entertainment Tonight," where he has appeared since 1982. However, long before he became a familiar face on television, his annual paperback "Leonard Maltin's Movie Guide" established his reputation; he was 18 when the first edition was published. He has also published numerous other books and articles, and teaches at the USC School of Cinematic Arts. In addition, Mr. Maltin has created television specials and DVDs on film topics, currently hosts the weekly program "Secret's Out" on ReelzChannel, and introduces movies on DirecTV.
Movies Under the Stars poolside screens have been a signature feature on Princess ships since first debuting on Caribbean Princess in 2004. They are now featured on Crown Princess, Emerald Princess, Ruby Princess, Grand Princess, Star Princess, Golden Princess and Sea Princess. The giant LED screens are more than 300 square feet in size with 69,000-watt sound systems and sufficient lighting power to be seen clearly at mid-day and heard even while the ship is moving at full speed — offering cruise passengers a movie experience comparable to the best shoreside movie theater. Other special programs presented on the giant screens include sporting events such as the Super Bowl, the college football Bowl Championship Series, video game contests with Nintendo's Wii, a variety of concert events with artists such as Christina Aguilera and Matchbox Twenty, and even midnight showings of cult films such as "The Rocky Horror Picture Show."