What is a Royal Caribbean Cruisetour?
Courtesy of Royal Caribbean
Cruisetours offer the best of land and sea vacations by combining your Alaska, Europe, Australia/New Zealand, Asia and South America cruise with an exciting land tour adventure. And as anyone who's traveled before knows, coastal areas are beautiful, but some of the most interesting cities and sights are often inland.

On a cruisetour, you're able to see everything – fabulous ports of call along the coast, and magnificent cities and sights located inland.
All of Royal Caribbean's Alaska, Europe, Australia/New Zealand, Asia and South America cruisetours are 100% escorted by expert Tour Guides and have been designed to maximize your time spent sightseeing on many of the inclusive tours, as well as give you the opportunity to explore on your own. And in most cases, you can decide to take the land tour portion either before or after your cruise.

But the bigger decision will be where to take your adventure. Royal Caribbean offers twenty-one cruisetour packages to Alaska, two cruisetour packages to the Canadian Rockies – two to the premier resort town of Whistler – four cruisetour packages to Europe, two cruisetour packages to Asia, three cruisetour packages to Australia/New Zealand and two cruisetour packages to South America.
In addition to your cruise vacation, the land portion of the cruisetour includes accommodations in some of the finest hotels in Alaska, 4 and 5 star hotel properties in Europe, Australia/New Zealand, Asia and South America; as well as many inclusive activities such as city tours, a visit to Denali National Park in Alaska, Quicksilver catamaran tour to the Great Barrier in Australia, a day exploring the Terracotta Warriors in China, and a zodiac ride through the Iguazu Falls in Argentina, just to name a few.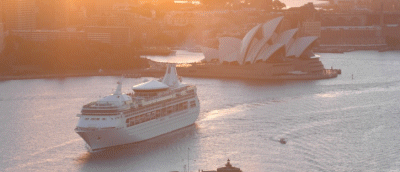 If you want the best of both worlds – a fantastic cruise vacation and a land tour adventure – a Royal Caribbean cruisetour is just what you're looking for.