By Heather Wasson, Sales Manager
The Cruise Web had an amazing opportunity to experience Royal Caribbean's west coast inaugural sailing of the Mariner of the Seas.  Such inaugural sailing opportunities are a benefit of working at The Cruise Web!  These opportunities are invaluable as they allow The Cruise Web's consultants to experience first-hand all the ship and itinerary has to offer. The Cruise Web also provides its staff with extra time off to experience cruise offerings. The Cruise Web encourages continued learning via trainings, ship tours, and even sailings with their cruise line partners.  The Cruise Web knows that, by investing in its staff, its consultants will be able to provide the best service to its clients.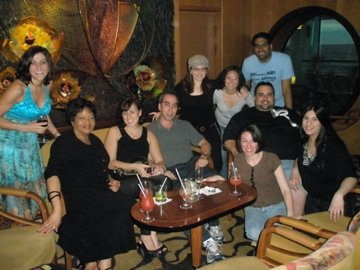 Back to the inaugural experience itself.  The Mariner of the Seas is now the most spectacular cruise ship on the West Coast.  Built in 2003, this 138,000 ton, 3114 passenger ship provides a great opportunity for large ship cruising on the Mexican Riviera.  You can take advantage of all that a large ship has to offer — from the rock-climbing wall, ice-skating rink, mini golf course to the Royal Promenade, gym, spa and specialty restaurants.  On top of the typical things a sailing would have to offer, Royal Caribbean executives were on-board the inaugural cruise for invaluable question and answer sessions.  The cruise line executives addressed relevant questions from the attending cruise consultants .  There was also a full blown trade-show to provide detailed information on  all that Royal Caribbean has to offer.  Now, The Cruise Web's cruise consultants are even more knowledgeable and able to pass on this knowledge to their clients.
One thing about an inaugural experience is that it reignites the desire to cruise again and again.  I share my colleague Fiona's opinion, that "next time, on a longer voyage, I plan on making use of all the ship has to offer including the hot tubs, spa, miniature golf and of course…trying to conquer the rock climbing wall!"  The two-day sailing provided a small snapshot of the endless possibilities to enjoy!
NOTE: The views and opinions expressed herein are those of the contributors, and do not necessarily reflect the position of The Cruise Web or Royal Caribbean.