Cruise Ship Weddings
By Jennifer Crivelli, Cruise Consultant, The Cruise Web.
Are you recently engaged?  Congratulations!  Are you dreaming of getting married on a white sand beach surrounded by crystal blue water and palm trees? Then, a cruise ship wedding is for you.
Cruise ship weddings are an incredible value!  Traditional weddings are usually very expensive.  By the time you include flowers, reception food, DJ or band, favors, invitations, tuxedos, photography, videography, etc., the bill can be quite substantial.  However, the cruise lines offer very affordable packages that include everything you will need to throw the perfect wedding!  Complete wedding packages available through the cruise lines start at around $2,000 and include your officiant, champagne toast, cake, photography service, music, and flowers for the bride and groom. Brides and Grooms can even customize their special day with a variety of upgrade options.  And, with many cruise lines to choose from, you can select just about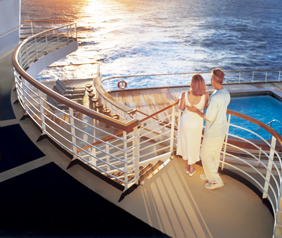 any wedding location.  Ceremonies are available in most ports-of-call including the Caribbean, Europe, Alaska, and Hawaii.  An added bonus – the cruise itself is your honeymoon!  Wedding Packages in port (either on board or onshore) are offered by Carnival, Celebrity, Cunard, Holland America, Norwegian Cruise Lines, Princess, and Royal Caribbean.  In addition, Princess Cruise Lines offers the opportunity to wed while the ship is at sea.

Do you want to include your friends and family?  No problem!  Guests can go on the same cruise; they'll enjoy a great vacation and witness your vows, all at the same time.  Many Brides and Grooms express concern about their guests' expense to attend their wedding.  First, plan ahead!  Most people plan and budget for a vacation every year.  By planning ahead, your guests can arrange their vacation plans around the cruise and make payments.  Second, don't feel like you have to invite everyone.  Think about the guest list for your wedding at home — how many people do you "have to" invite?  When getting married on a cruise, you can cut your guest list by 50-70%.  And the guests who do attend are there because they love you and want to share your special day!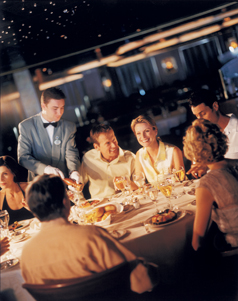 Planning a Cruise Ship Wedding is very easy.  As your Cruise Consultant, it is my job to recommend the perfect cruise, and help you make sure that everyone who wants to be there, is there.  Once the cabin for the Bride and Groom is confirmed, you will be put in contact with the Wedding Department for your specific cruise line.  Here, a Wedding Consultant will take care of all the ceremony details; typically 3-4 hours of planning throughout the process.  No running from vendor to vendor, no site inspections, no tastings, no negotiating contracts!  Instead of worrying about all the details, just enjoy yourself and your friends & family!
Jennifer Crivelli
Cruise Consultant
The Cruise Web, Inc.
1-800-377-9383 ext. 234
jenniferc@cruiseweb.com