By Frans Hansen, President, The Cruise Web.
Having just returned from an exciting and successful weekend in Utah, winning the National Auto Sport Association's National Championship in the BMW SpecE30 class, I have been asked by our Cruise Web newsletter team to write a behind the scenes report about capturing the championship.  Here is a look at the week, key tactics and strategies that led to the title.
Plan ahead, and then have a plan B, and even a plan C!
Plan A for me was to have my local DriveGear racing team bring my sweetly tuned #87 car out to Salt Lake City for the big event. However, team owners Jon and Andrew and their wives, both decided to have babies this very month, and further, refused to ask the stork to hold delivery for another month.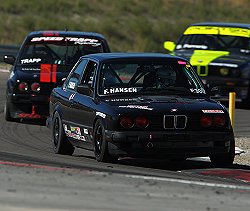 Plan B found last year's National runner-up, Steve, with a speedy backup red #92 car.  Yet, despite a signed contract, "Little Red" decided to blow a motor three weeks before the dance. Being the thoughtful and honorable man that he is, Steve helped me line up my Plan C ride – a black 1987 BMW 325is from team PFB Performance. [Read more →]
By Frans Hansen, President, The Cruise Web.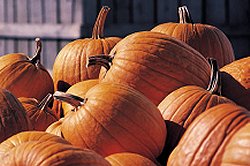 Summer is almost over, school is beginning, and lazy casual days at the pool or beach are floating away with the surf's ebb.  Soon, the breeze will pick up, we will all add a light layer of clothes, and the smells and colors of autumn will be upon us.
Many of us will miss the summer, while others are happy to see it end.  Either way, almost everyone appreciates fall. Fall is a time to turn off the air conditioner, open the doors and windows, get outside, and connect with nature. It's about pumpkin carving, leaf jumping, turkey basting, and planning for the year-end Holidays. [Read more →]
By Frans Hansen, President, The Cruise Web.
In Rob Reiner's film The Bucket List, Jack Nicholson's and Morgan Freeman's characters meet in a crowded hospital room, having just been diagnosed with terminal illnesses and prognoses of less than a year to live. The two become unlikely friends, and set off together to climb the Pyramids, traverse the Great Wall of China, safari in Africa, and share all the things on their list before they "kick the bucket!"
With respects to legends Reiner, Nicholson and Freeman, and to those who have actually lived out final year bucket lists, I have to argue that this is the 'old' way about a Bucket List! The New Bucket List concept is quite different … and it's ageless!  First of all, very few of us are given one year's 'advance notice' on our life expectancy, and then also have the time, resources and health, to knock off a list of 20 worldly pursuits in under a year.  Additionally, beginning with the instant we are born, our time here starts ticking away.  Thus, now is the time to live our dreams.  Now, everyone, whether 25 or 85, should put together a proper Bucket List and start checking off at least one item per year! [Read more →]
By Frans Hansen, President, The Cruise Web.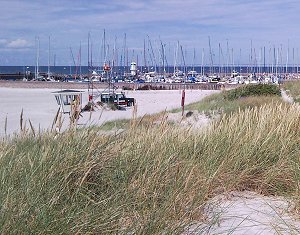 Last summer, I took my then 6 and 9 year old boys to the little southern Swedish coastal village of Falsterbo.  Falsterbo and neighboring Skanör are small old fishing villages that have turned into popular summer vacation spots for many Swedes, and have always been favorites of my boys' Swedish born "Farmor" (literally translated "father's mother").
As this was the first trip for my boys to the home country of many of their ancestors, we packed an active itinerary into our 10-day vacation. However, almost every morning, we made time for the beach! Waking in a family friends' summer home as immaculate as every building and home in these pristine villages, the three of us would eat our Swedish porridge and then board our old-fashion rented bicycles – baskets, bells, and all – to bike 10-15 minutes to the crisp and breezy water of the Baltic Sea. [Read more →]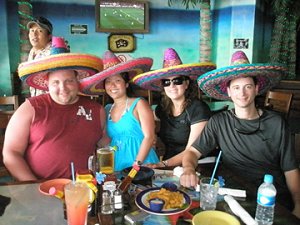 The Cruise Web is pleased to welcome back several Cruise Consultants from another educational Seminar-at-Sea cruise. Jacques Botty, Tina Colicchio, Jarren Matthews, and Heather Wasson represented The Cruise Web on the 7-night Western Caribbean cruise aboard the Celebrity Solstice. The cruise was a well deserved vacation for the group and we are glad to hear that they had a wonderful time, with Celebrity's glassblowing demonstrations proving especially memorable. Tina was kind enough to provide the following post about the hot glass shows performed aboard the ship:
I have been to a few renaissance fairs in my time and I have seen live glassblowing before. A good friend of the family is an amateur glassblower herself. For me, glassblowing was "been there, seen it, done that…" But my preconceptions about the art of glassblowing shattered right then and there. I became hypnotized by what I saw.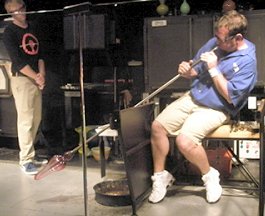 There were three young men on stage: Matt Decker, Gabe Bloodworth, and Eric Meek. One of them was doing the actual glassblowing, one of them was assisting, and the other was narrating what was going on over a microphone-headset. What struck me immediately were two things. [Read more →]
By Frans Hansen, President, The Cruise Web.
This month's Current theme, "cruise cuisine," reminds me of my first ever dining experience in a cruise line's specialty steak house.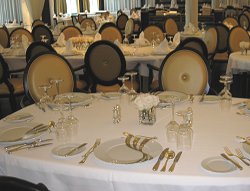 I was among a few guests invited to dine with one of a leading cruise line's corporate executives for an inaugural dinner aboard a new vessel that was debuting its first steakhouse at sea. Wow — while the company was terrific, the dining experience was even better!
I've always been impressed how cruise cuisine is far superior to hotel banquet cuisine in all respects: choice, quality, inspiration, preparation, presentation, ambiance, and service, to name a few.  And who couldn't possibly be a fan of the choice of dining venue options at sea? From room service to cafes, poolside snacks, buffets, the main dining room, and many more. [Read more →]
By Frans Hansen, President, The Cruise Web.
Patrons of New York City's famous Tavern on the Green restaurant may have read this month that the city just won a legal battle to use the rights to this famous name when it plans to re-open the refurbished venue in Central Park this year.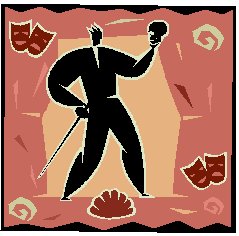 It was several years ago at Tavern on the Green that I first realized how much some people love shows.  After putting our names on page one hundred and something of the guest list, my ex-wife and I were shuffled up the stairs to a tiny window-less waiting loft with bar, that seemed to be holding upwards of 50 guests. Descriptions aside, it was quite a charming experience.  Overtaken by the infectious spirit of the place, we starting speaking with the delightful couple seated on our laps … excuse me … I meant to say "seated at the table next to us." [Read more →]
Courtesy of Holland America Line.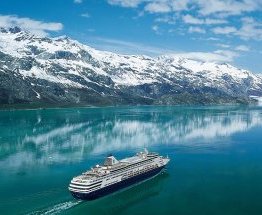 Captain Keith Colburn of Discovery Channel's Emmy-nominated "Deadliest Catch" series is scheduled to sail as part of the guest-enrichment program on the June 18, 2010, Alaskan Explorer Voyage aboard Holland America Line's ms Zaandam.
The seven-day cruise sails round-trip from Seattle, and calls at Glacier Bay, Juneau, Sitka and Ketchikan, Alaska, and Victoria, B.C., Canada.
During his cruise, Colburn will share his expertise on how to select, crack and clean fresh crab, while Holland America Line's executive chef demonstrates different ways to prepare and serve this delectable Alaska seafood favorite. Colburn is one of more than 65 celebrated chefs and wine experts scheduled to sail in 2010 and share their expertise in the line's Culinary Arts Center, presented by Food & Wine magazine. [Read more →]
By Frans Hansen, President, The Cruise Web.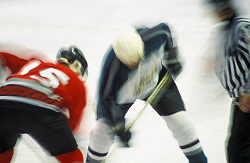 Although I was just a young boy at the time, the most exciting and memorable sporting victory I have ever witnessed has to be the 1980 "Miracle on Ice."  This was the year that a young US men's hockey team, made up of amateur and college players, toppled the "unbeatable" Soviet Union hockey power house at the Winter Olympics in Lake Placid, New York.  USA then went on to beat Finland, to claim the gold medal.
Looking back to the build-up of that 1980 game, I can remember feeling how the Soviets were something akin to unstoppable robots.  They were "perfect" in their execution, "never" made mistakes, and I almost thought of them as super-human, or maybe even non-human. [Read more →]
The Cruise Web is pleased to present its first Gift Certificate Program! (*sound of people cheering*)
Our Gift Certificate Program enables you to give the gift of a cruise, or cruise related amenity, to your uncle for his birthday, your sister for her wedding, your wife for your anniversary or anybody else who you know would enjoy The Cruise Web Gift Certificate.
Our Gift Certificates are available in any denomination and can be used by anyone for anything cruise related.  From spa treatments, to shore excursions to a free cruise compliments of you, The Cruise Web Gift Certificate gives you the flexibility of offering that special someone (or someones) a wide variety of gifts that they will surely be able to use and enjoy on their next cruise.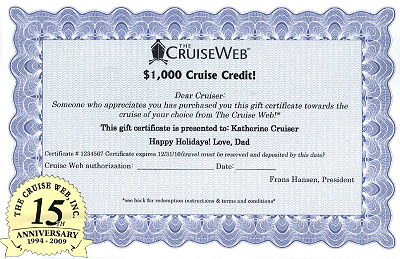 For more information about our new Gift Certificate Program, call one of our knowledgeable Cruise Consultants today!
The Cruise Web, Inc.
1-800-377-9383