Posts from —
August 2010
Courtesy of Celebrity Cruises.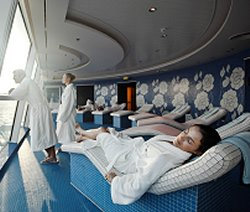 Celebrity Cruises is adding spa, salon and personal fitness appointments to its ever-growing line-up of onboard experiences available for pre-cruise booking. In today's fast-paced world, vacationers are looking to make the most of their time away from daily pressures, and Celebrity aims for this latest offering to present cruise guests with yet another way to make the most of their time onboard.
"One of the most valued elements of a Celebrity Cruises vacation is the outstanding service that we offer to our guests," said Lisa Lutoff-Perlo, Senior Vice President, Hotel Operations. "Even the process of planning for specific experiences such as spa and salon appointments reflects our commitment to service and our 'Designed for you' brand platform. Our guests tell us that the more they can arrange in advance, the less they have to think about once they step aboard our award-winning ships. We've designed our more than 100 AquaSpa, salon and fitness offerings to help our guests enjoy relaxation and renewal, from men's barber services to hot stone massages, from the Tri-Enzyme Resurfacing Facial to Brazilian Blowout Keratin treatments for hair, and more." [Read more →]
Courtesy of Norwegian Cruise Line.
Norwegian Cruise Line and Nickelodeon are offering the ultimate family cruise vacation with two
"Nickelodeon All Access Cruises" setting sail in 2011. These special Nickelodeon-themed cruises give guests access to seven days of slime-filled entertainment all day, every day aboard Norwegian Jewel, sailing from New York on February 20, 2011; and on the cruise line's newest and most innovative ship, Norwegian Epic, sailing from Barcelona on July 24, 2011.
Norwegian and Nickelodeon have partnered to provide families with a once-in-a-lifetime cruise vacation that is all Nickelodeon, all week long. Exclusive Nickelodeon family programming featured on the two "Nickelodeon All Access" cruises includes: [Read more →]
Senior Cruise Consultant Jacques Botty recently won a cruise with Royal Caribbean onboard the Enchantment of the Seas destined for King's Wharf, Bermuda. He departed on June 26, 2010 out of Baltimore and returned with only wonderful things to say about his time on board the Enchantment.
Enchantment of the Seas is a smaller ship with a more intimate feeling, where you can build friendships with the other passengers. In fact, Jacques was a finalist in the belly flop contest, and quickly became a local celebrity on board with other passengers stopping and praising him on his belly flop! [Read more →]
By John Herrera, Senior Cruise Consultant, The Cruise Web.
Some of the best deals and exotic itineraries can be found when cruise ships reposition. This is often the case during the fall, depending on where in the world the ship is. For example, cruise ships can relocate from the United States to the Caribbean. This results in bargain prices and unique port of call combinations such as Eastern and Southern Caribbean islands or even Bermuda for the day.
My favorite repositioning cruise was from Vancouver to Los Angeles aboard Sapphire Princess. These repositioning cruises over on the west coast are often referred to as 'Coastal Cruises.' Sapphire Princess had finished the summer season in Alaska and was scheduled to do the winter season roundtrip from Los Angeles to the Mexican Riviera. My unique itinerary was a five night sailing, which included stops in Victoria, Canada, San Francisco and Santa Barbara (where we had an awesome time at the wineries). We witnessed an incredible sunset as the ship left Santa Barbara for a day at sea, followed by our final disembarkation at Los Angeles, her home port for the winter season. [Read more →]
Courtesy of Celebrity Cruises.
Playing off the series of hip, high-tech "firsts" it has introduced in recent months, premium cruise line Celebrity Cruises is debuting the industry's first self-guided art tours on an iPad®. Earlier this year, Celebrity introduced the first "Celebrity iLounge" – a modern lounge equipped with MacBook® workstations, a retail space featuring Apple products and accessories, and an enrichment center where certified staff present a variety of courses and offer guests tips on Mac and iPod® usage. Celebrity Cruises is itself an iPad pioneer, having become the first cruise line to present a menu and wine list on an iPad when it introduced its engaging "Qsine" specialty restaurant earlier this year.
"The response to the Celebrity iLounge and to the iPad menus in Qsine was so positive, we knew our guests would relish yet another opportunity to capitalize on the latest technology in an entertaining, enriching way," said Celebrity's Senior VP of Hotel Operations Lisa Lutoff-Perlo. "Celebrity's 'Designed for you' platform is built on our commitment to listen to our guests and offer experiences inspired by them and their sophisticated travel desires." [Read more →]

The Cruise Web is proud to recognize another Cruise Consultant who recently received her Senior Cruise Consultant Status.  In July, Cruise Consultant Raquel Grinnell earned her Senior Status in recognition of her hard work, consistency and loyalty to the company.
With the promotion, Raquel joins several other esteemed Senior Cruise Consultants at The Cruise Web. The group's expert consultation and vast cruise knowledge  epitomize the core strengths of The Cruise Web and the dedication it has to its customers and the cruise industry.
Raquel was recognized with a company-wide announcement of her new status.  The Cruise Web congratulates its newest Senior Cruise Consultant and looks forward to Raquel's continued success.
By Frans Hansen, President, The Cruise Web.
Summer is almost over, school is beginning, and lazy casual days at the pool or beach are floating away with the surf's ebb.  Soon, the breeze will pick up, we will all add a light layer of clothes, and the smells and colors of autumn will be upon us.
Many of us will miss the summer, while others are happy to see it end.  Either way, almost everyone appreciates fall. Fall is a time to turn off the air conditioner, open the doors and windows, get outside, and connect with nature. It's about pumpkin carving, leaf jumping, turkey basting, and planning for the year-end Holidays. [Read more →]
By Adam Wolf, Senior Cruise Consultant, The Cruise Web.
In the northern hemisphere, fall marks the transition between summer into winter, usually beginning in September and ending in November. As a former teacher, I have always thought about fall in terms of either going back to school or work, as well as the beginning of football season. It's a great time of year to take a cruise vacation, and there are plenty of destinations to consider. Popular fall itineraries include Canada and New England, the Mediterranean, the Caribbean, and repositioning voyages.
Leaf peeping in Canada and New England is an annual tradition. Any area that is covered with trees comes alive in the fall, when cooler temperatures arrive and the leaves begin to change color before winter. Mountains and valleys can look completely different during this time of year, with a potpourri of colors typically peaking in late September and early October. Cruise lines offer many fall cruises ranging from 7- to 14-nights out of New York, Baltimore, Boston, Montreal, or Quebec City. These itineraries sail along the Atlantic Coast of New England and Canada, as well as along the St. Lawrence River. The best way to see the ultimate fall foliage and visit this region full of history and natural beauty is definitely on a cruise ship. [Read more →]
Courtesy of  Carnival Cruise Lines.

With the band warmed up, amps cranked, spotlight set and the adoring crowd ready to explode, Carnival guests will take the  stage, grab the mic and live out their music-star daydreams on the open seas. 
Introducing Superstar Live Karaoke, Carnival Cruise Lines' newest entertainment feature puts guests into the act, fronting a live band and performing their favorite songs to a packed house.
Superstar Live Karaoke combines two popular forms of entertainment – live music by talented musicians and karaoke by Carnival's singing sailors – and cranks it up. It is fun for all when aspiring singers or fun-seekers have their moment in the spotlight while a few hundred of their friends, family and fellow guests cheer them on and sing along. [Read more →]
Courtesy of Crystal Cruises.
This fall, Crystal guests can see what backstage life is like at the Monte Carlo Ballet, how the ponies live at St-Tropez's Polo Club, view Mexico's Sierra Madre mountains from a private plane and Copper Canyon by privately chartered rail, among other "private access" experiences.  The ultra-luxury line is offering nearly 100 brand new Crystal Adventures with its fall itineraries, offering travelers distinctly new perspectives on the destinations.
"Crystal's well traveled guests continually seek fresh and exclusive ways to see destinations," says John Stoll, vice president, land and port operations.  "We design our Crystal Adventures to appeal to a broad range of interests and offer travelers more choices."