Posts from —
April 2010
Courtesy of Holland America Line.
Her Royal Highness Princess Máxima of the Netherlands will name Holland America Line's new Signature-class ship, ms Nieuw Amsterdam, in a ceremony in Venice, Italy, July 4, 2010. The 2,106-guest ship is the fourth to carry that name for the line and is being built by Italian shipyard Fincantieri-Cantieri Navali Italiani S.p.A. in Marghera, Italy.
"The Dutch Royal Family is continuing a long and proud tradition of naming Holland America Line ships that started more than 80 years ago, and we are truly honored that Princess Máxima will name Nieuw Amsterdam," said Stein Kruse, president and chief executive officer of Holland America Line. "The naming ceremony will mark a signature moment in our company's 137-year history as Princess Máxima becomes godmother of Nieuw Amsterdam, which, with her sister-ship Eurodam, will share the distinction as the largest passenger ships ever to fly the Dutch flag." [Read more →]
Courtesy of MSC Cruises.
MSC Cruises announced that they will be operating two cruise ships simultaneously out of South African ports during the upcoming 2010/11 summer season to meet increased market demand and offer variety to the South African cruise market.
The luxurious MSC Sinfonia, with a capacity of over 2,100 passengers, has enjoyed a highly successful maiden season operating out of Durban and will be back for a second extended cruise season from November this year up until May 2011. She will be joined by the smaller, beautiful ship – already well known to the South African public – the MSC Melody, with a capacity of just 1,500 guests. [Read more →]
By: The Cruise Web, Inc.


There are lots of attractions on a cruise, but one of the best can be the dining experience. Whenever I cruise I try and sample one or more of the specialty restaurants on the ship. This gives you a change of pace in the decor and cuisine as well as service. Especially if you want to celebrate a birthday, anniversary or some other milestone, the specialty restaurant makes a good choice. I am frankly not a "foodie," a food snob, or for that matter much of a cook. I love diner burgers and fries as well as the next guy. But evenings I've spent at specialty restaurants have given me more of an appreciation for the artistry and subtlety of fine cuisine.
Although you may pay a bit extra (about $15 – $30 per passenger) for the experience, you often can get a six-star dining evening at a fraction of the cost you would pay to do so on land. Although there is always plenty to eat, the
emphasis is on the quality of the cuisine. The presentation and unobtrusive yet consistent service contribute to a memorable dinner as you leisurely linger through each course. I always enjoy the palate cleansers mid-meal that typically are part of the experience. This comes from the French custom, to remove lingering flavors from the mouth so your next course can be enjoyed with a fresh perspective. It also serves as a digestive–to avoid heartburn or indigestion, plus to stimulate the appetite. It might be sorbet, a neutral food, or a light beverage. [Read more →]
A compilation from The Cruise Web employees.
Whether it's a romantic candlelit dinner with champagne or breakfast in bed, indulging in cruise ship cuisine, or "cruisine," is always one of the most rewarding cruise experiences. No where else combines the unparalleled food, service, and atmosphere delivered with cruise ship dining, and no one knows this better than our veteran cruisers. We hope you'll enjoy reading as The Cruise Web's employees look back on some of their most memorable dining experiences:
Heather Wasson
The level of service and quality of food in the Crown's Grill was comparable to a Ruth's Chris here at 1/4 of the price!
Check your daily newsletter for the midnight buffet.  It's a highlight of the trip!  Even if you're not hungry, go up for the show.  The chefs spend all day prepping food and making really cool displays.  It's amazing to see the watermelons cut out into works of art.  It's hilarious to see little creatures created from food.  I'm awed by how creative they are. [Read more →]
By Frans Hansen, President, The Cruise Web.
This month's Current theme, "cruise cuisine," reminds me of my first ever dining experience in a cruise line's specialty steak house.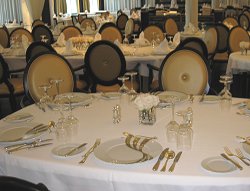 I was among a few guests invited to dine with one of a leading cruise line's corporate executives for an inaugural dinner aboard a new vessel that was debuting its first steakhouse at sea. Wow — while the company was terrific, the dining experience was even better!
I've always been impressed how cruise cuisine is far superior to hotel banquet cuisine in all respects: choice, quality, inspiration, preparation, presentation, ambiance, and service, to name a few.  And who couldn't possibly be a fan of the choice of dining venue options at sea? From room service to cafes, poolside snacks, buffets, the main dining room, and many more. [Read more →]
Courtesy of Silversea Cruises.
Silversea continues its commitment to the culinary enrichment of its guests with the creation of Flavours of the Mediterranean, a special programme showcasing the talents of its corporate chefs, slated for the 24 May, Rome-to-Nice sailing of Silver Whisper.
This unique voyage is designed to highlight the flavours of the Mediterranean by bringing together, for the first time, Silversea's corporate culinary stars to tantalise guests with festive dinners and tastings, cooking demonstrations and wine pairings.  Guests can attend lectures discussing top trends from terroir to sustainable; join optional tours to renowned wineries and bistros; and visit a local market with a chef to learn how to pick the perfect ingredients for a delicious meal.
Courtesy of Crystal Cruises.
Teens can learn to make sushi like a professional Nobu-trained chef, take a golf lesson with PGA pro instructors, and language classes with Berlitz educators on Crystal Cruises' award-winning ships this summer.  Renowned for Six-Star enrichment for adults, the luxury line offers younger guests opportunities to enhance their travel experiences with onboard programming that is sophisticated, entertaining, and complimentary.
Citing a surge in family and multigenerational travel, Crystal reports that, as of March 2010, it has nearly five times more family groups booked through its Crystal Family Memories program for this year versus 2009. [Read more →]
Courtesy of Norwegian Cruise Line.
This year's Macy's 4th of July Fireworks® in New York is sure to be truly epic. Norwegian Cruise Line and Macy's today announced that Norwegian Cruise Line's new ship, Norwegian Epic, will be the host venue for the 34th Annual Macy's 4th of July Fireworks event taking place on Sunday, July 4, 2010. The event includes a national, one-hour, live entertainment broadcast on NBC-TV beginning at 9 p.m. and takes place on board Norwegian Epic where invited guests will have a front row view of the fireworks display.
As Norwegian Cruise Line's largest and most innovative Freestyle Cruising ship to date, Norwegian Epic will be an ideal venue for the fireworks show. Guests will have incredible views of the New York skyline and river from the ship's pool and outer decks. The expansive ship – the length of more than three football fields — will provide multiple vantage points to view the largest and most spectacular fireworks display in the nation. [Read more →]

Two of The Cruise Web's Cruise Consultants were recognized for their performance this past Friday, April 16th.  Cruise Consultant Adam Wolf and Gloria Hanson both earned the status of Senior Cruise Consultant for their hard work and dedication to The Cruise Web.
Adam and Gloria join a team of twelve other Senior Cruise Consultants at The Cruise Web, whose continued excellence and expert consultation epitomize the core strength of The Cruise Web and the dedication it has to its customers and the cruise industry.
Gloria and Adam were recognized last Friday with a company-wide announcement of their new statuses.  The Cruise Web congratulates both Adam and Gloria and looks forward to their continued success.

The Cruise Web Assistant Sales Manager Arthur B. attended the opening day game of the Washington Nationals against the Philadelphia Phillies on Monday, April 5.
Though Arthur prefers soccer to baseball, he attended the game with his good friend Arthur and the Regional Manager for Royal Caribbean, Bob R.  Although they arrived a little late, Arthur and his friend made it just in time to see President Barack Obama throw out the ceremonial first pitch of the game.
Arthur, his friend, and Bob settled in to watch the Nationals unfortunately lose their home-opener, but Arthur didn't mind because "the weather was nice and the atmosphere was fun, and it was cool seeing all the Secret Service around due to the President."
Arthur and The Cruise Web are greatly appreciative of Royal Caribbean for providing the opportunity to be part of a unique and fun experience.