Posts from —
April 2009
Courtesy of NCL
Travel Advisory: Updated 7pm 04/28/09
Miami – Apr 28, 2009 
The health and well-being of our guests and crew is of the utmost importance to Norwegian Cruise Line. Accordingly, the company is closely monitoring the health advisories regarding the current Swine Influenza (Swine Flu) situation.
As a precautionary measure due to the recent travel advisory relating to Mexico, the company is cancelling Norwegian Pearl's final two calls in Mexico on its current repositioning cruise. The stops were scheduled for tomorrow, Wednesday, April 29 and Friday, May 1, 2009. Instead, the ship will call on San Diego, Calif., on Saturday, May 2. Apart from this sailing, Norwegian Cruise Line's scheduled deployment does not include any other ports of call in Mexico until the end of September 2009.
Norwegian Cruise Line has stringent protocols for cleaning and sanitation on all of its vessels to prevent the spread of infectious diseases. In addition, the company is taking proactive precautionary measures to protect its valued guests, including, but not limited to, fleet-wide guest screening via a health questionnaire prior to embarkation and on-board education regarding Swine Flu symptoms and preventative actions. As a result, the company does not anticipate that its guests' cruise experience will be impacted.
Furthermore, Norwegian Cruise Line's on-board medical centers are stocking an appropriate amount of the anti-viral medication used to treat the illness, in the unlikely event the need for its use becomes necessary.
Any further updates will be posted to ncl.com. For information on Swine Influenza, visit the CDC's web site at www.cdc.gov
John Duffy, QE2 Hotel Manager – "Seagoing Employee of the Year 2008″
Seatrade Insider's "Seatrade Awards 2008″
Cunard Line – "Best Cruise Line"
Australian Gourmet Traveler's 2008 Travel Awards
Queen Mary 2 – "Best Luxury Cruise Ship"
Travel Weekly Readers' Choice Awards
Queen Mary 2 – "Top 10 Best Spa on a Cruise Ship"
SpaFinder Readers' Choice Awards
Queen Mary 2, Queen's Grill – 6+ Star Rating
Stern's Guide to the Cruise Vacation, 2009 Edition
Queen Victoria – "Best Cruise Ship"
Robb Report – Best of the Best
Queen Victoria – "Hot New Hotel" and "Hot New Spa"
Condé Nast Traveler – Annual Hot List (World Category)
Cunard Line – "Best Transatlantic Crossings"
Porthole Cruise Magazine Readers' Choice Awards
Cunard Line – "Best World Cruise Itineraries"
Porthole Cruise Magazine Readers' Choice Awards
Cunard Line – "#1 – Top Ten Cruise Lines"
2008 Berlitz Complete Guide to Ocean Cruising and Cruise Ships
Cunard Line – "Best Overall Food" and "Best Overall Service"
2008 Berlitz Complete Guide to Ocean Cruising and Cruise Ships
Courtesy of NCL
2008 10th Annual Readers' Choice Awards
Porthole Cruise Magazine
- Best Alternative Dining Room Cuisine
- Best Spa Facilities
- Best Hawaii Itineraries
- Best Bermuda Itineraries
2008 World Travel Awards
- Norwegian Cruise Line named Europe's Leading Cruise Line
2008 Editors' Picks Awards
Cruise Critic
- Norwegian Cruise Line won for Best Entertainment and Best Suites
2008 Magellan Awards
Travel Weekly
- Gold awarded in the Cruise Ship/Suite Design category for NCL's Garden and Courtyard Villas
- Gold awarded in the Advertising/Marketing category for for Norwegian Gem's "It Girl" campaign; NCL's overall brand print advertising; Partnership 2.0 print advertising; and the "Pity the Procrastinator" marketing promotion
- Silver awarded in the Advertising/Marketing category for NCL's print advertising
2008 6th Annual SpaFinder Readers' Choice Awards
SpaFinder Magazine
- Norwegian Cruise Line named one of the top ten best cruise ship spas
2008 World Savers Awards
Condé Nast Traveler
- Norwegian Cruise Line named as finalist for its environmental programs
2008 Condé Nast Traveler
Cruise Issue
- Norwegian Gem named one of the best cruise ships for "spa lovers"
- Norwegian Jade named one of the best cruise ships for "foodies"
2008 World's Best Awards
Travel + Leisure
- Top 10 Large-Ship Cruise Lines (Norwegian Cruise Line, #10)
2008 Readers' Choice Platinum List
Celebrated Living Summer
- Top Five Cruises, Large Resort Ships – #2
2008 Best Family Cruises
Family Circle
- Norwegian Cruise Line named the best cruise line for those who like to be independent
2008 8th Annual Readers' Poll
Condé Nast Traveler
- Norwegian Pearl named one of the top large cruise ships worldwide
2008 Readers' Choice Award
Southern Living
- One of the best cruise lines
by Jaime Ross, Assistant Manager, Client Services, The Cruise Web
I've recently discovered that planning a wedding is only slightly less painful than a root canal. Ok, maybe it's not that bad. But it does still make you want to pull your hair out occasionally.
My fiancé, Jason, asked me to marry him last July. July 5th, actually. It was lovely. The sun was shining. The birds were chirping. Love was in the air.
 And then we woke up on July 6th (cue the dark, imposing music) and ever since our lives have been devoted to wedding planning (cue screams from the peanut gallery).
Jason and I quickly learned there was a lot involved in planning a wedding. There's the venue, the food, the invitations, the band, the photographer…need I go on? But, thankfully, things are moving along smoothly. We've had the place for the ceremony and reception booked since October and our caterer was chosen by December, as was my dress – which should be ready any day now – SO excited! I think picking the dress was the easiest and least time-consuming part of this whole process so far!
We picked the members of our bridal party within a few weeks of getting engaged…ok…I'll be honest…I picked my bridesmaids about 3 years ago, but who's counting? I mean, really, after dating my fiancé for over 9 years, I was bound to start thinking of wedding bells at some point. After my sister got married last May, Jason would probably tell you that I started laying it on pretty thick.
We now have less than 4 months to go (the wedding is in August) and though we have a lot planned already, we still have lots to do and the nerves are starting to kick in. We just finalized our wedding invitations and wow, what a process that was!! First, you have to pick the style of invitation you want.
Then, you look through books, upon books, upon books until you find the one you like best. THEN, you choose the color…not only of the paper, but of the ink as well. THEN, there's the font, and the response cards, and return envelope addresses, and so on. I never knew invitations would be one of the most difficult parts of planning a wedding. This was the part in which I lost a few hairs and probably gained some new gray ones in their place. But the invitations look great and we couldn't be happier with them.
We have yet to book a florist or videographer, but meetings are in the works. And, of course, there are still the little things like favors, centerpieces, gifts for bridal party, parents, and each other, not to mention a veil, shoes, and jewelry…but that's all fun stuff!
Overall, it hasn't been all that bad. Hey, it could be worse…after all, I could be a Bridezilla and complain about everything down to the smallest detail! I know that I'll be glad we decided to have a full-blown wedding rather than running off and eloping because it is very important to Jason and I that we get to share this amazingly beautiful life experience with our family and friends. I'm sure the annoyances involved with wedding planning will disappear the moment I start walking down the aisle and become overwhelmed with emotion, seeing my Hubby-To-Be waiting for me at the end.
And, of course, it's nothing a little honeymoon can't cure…
Courtesy of Celebrity Cruises.
"Dazzling," "stunning," and "in a word, wow," are among the praises
Celebrity Solstice has received from members of the press since the ship launched in November 2008, and its hip style and design is receiving similar recognition from the architecture and design community.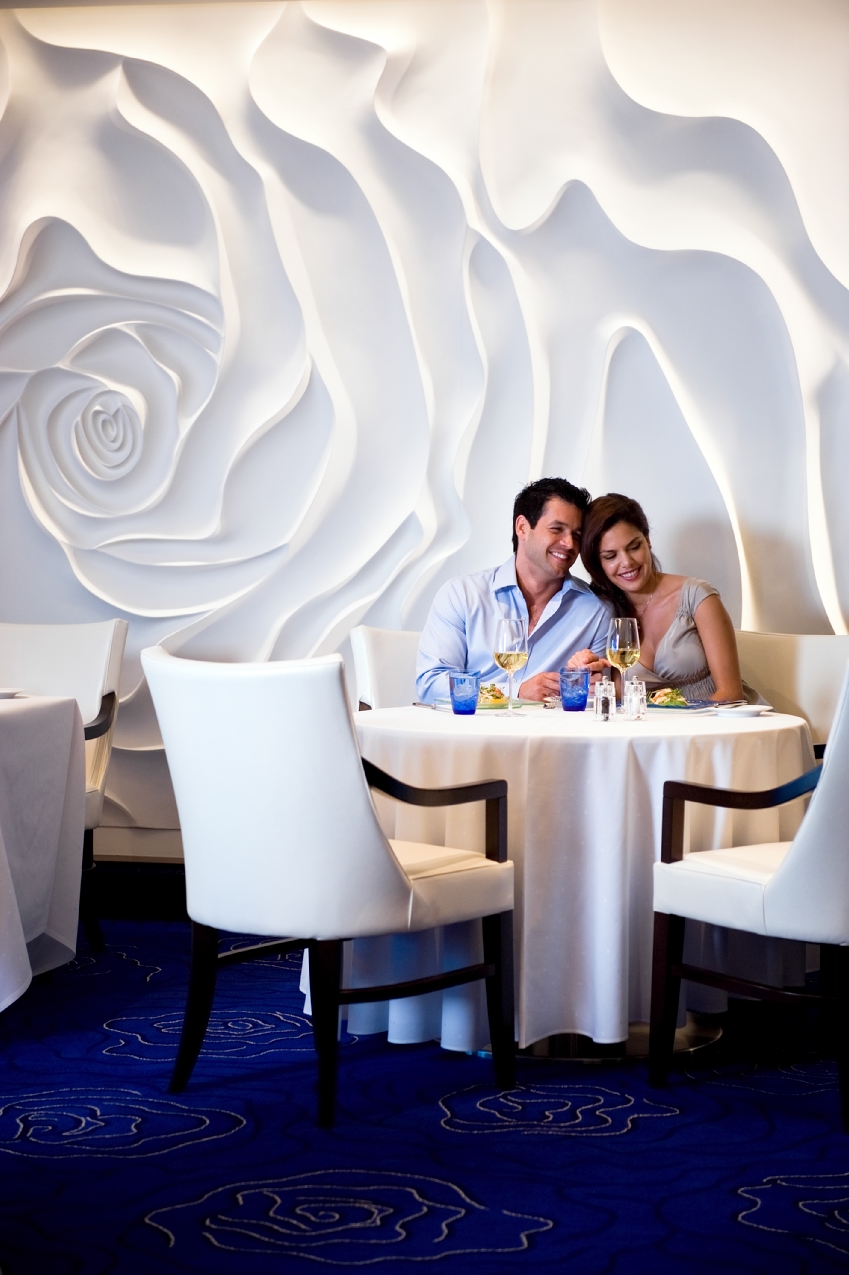 The prestigious International Interior Design Association (IIDA) put Celebrity Solstice front and center in an installment of its "Pioneering Design Lecture Series" in New York focusing on influential professionals in the hospitality, fashion, and theater arts design arena. Among the designers invited to participate were noted hospitality designer Adam D. Tihany, who created Celebrity Solstice's Grand Epernay main restaurant with gleaming crystal wine tower, the inviting, casual Oceanview Café and Bar, and the Napa Valley-inspired Tuscan Grille steakhouse; Francesca Bucci and Hans Galutera of BG Studio International, who led the design of Celebrity Solstice's elegant "Murano" specialty restaurant and four of the ship's chic bars and lounges; and Celebrity Cruises' AVP of Newbuilding & Design Kelly Gonzalez, whose team headed up the design of the ship's Mediterranean-influenced "Blu" specialty restaurant. Each participated in a panel discussion about the history of ocean liner design, which evolved to how "Celebrity's Solstice Class has become the new benchmark in the industry," according to the IIDA New York Chapter.
That new benchmark – Celebrity Solstice – will have an equally stunning sister ship when Celebrity Equinox enters service July 31, 2009, and three additional ships in the class will join the fleet annually through 2012. Guests on every Solstice Class ship will experience
the series of brand-defining, industry-first attributes that guests, travel agents and press have praised about Celebrity Solstice, including a half-acre Lawn Club
with real grass, a glassblowing show and studio developed with The Corning Museum of Glass, unrivaled dining venues offering trendsetting cuisine and design, and widely varied entertainment, including spectacular new shows in partnership with Poet Theatricals. The 2,850-guest vessels also have spacious staterooms and bathrooms, and several categories of accommodations, including Celebrity's new, spa-inspired AquaClass staterooms.

The Cruise Web, Inc.
reply@cruiseweb.com
1-800-377-9383
Courtesy of Norwegian Cruise Line
Norwegian Epic's construction, underway at STX Europe in St. Nazaire, France, celebrated a milestone this month, when the ship's bow was lowered into place. The bow, known as block 642, weighed 445 tons and measured 85 feet long, 108 feet wide and almost 30 feet high. The process of putting the bow in place took 100 workers about two hours. This significant step represents the completion of the lower part of the steel hull, those areas that come in contact with the sea, and indicates that only the superstructures, or topsides, remain to be finalized.
"Embarking the bow is a symbolic and strong step in the building of Norwegian Epic. She is taking shape beautifully," said Roberto Martinoli, Norwegian Cruise Line's president and chief operating officer. "STX Europe is doing an incredible job of constructing our largest and most innovative Freestyle Cruising ship to date."
The 153,000-gross ton, 4,200-passenger ship is scheduled for delivery at the end of May 2010.
Norwegian Epic's next and final chapter reveal is scheduled for May 20, 2009, in New York City.
By: The Cruise Web, Inc.

Hawaii! Just saying the name invokes memories of family,
fun and adventure! For me, a Southern California native, Hawaii was a "local" destination. From the sparkling black sand beaches and tropical rain-forests to native cuisine, metropolitan shopping to the friendly, warm culture — Hawaii has it all!
Planning a family vacation is no easy task.  As a busy wife and mother with two active sons and a full-time job, take my word for it. It takes a lot of time and effort to plan a trip, not to mention trying to please everyone…. husband, teenagers, parents, in-laws, siblings, young nieces and nephews.