Posts from —
March 2009
The world's highest and longest zipline, an Alaska seafood culinary feast and an exhilarating bike ride through the Tongass National Forest highlight the 21 new tours Princess Cruises is debuting this summer Alaska season. Whether visitors are interested in the adrenaline rush of an exciting adventure, delving deeper into local culture, enjoying authentic Alaska flavors or organizing their own private fishing expedition, Princess' Adventures Ashore program features new choices to help passengers make the most of their time in port.
The new tours join Princess's extensive Alaska shore excursion program, which offers 222 options this summer. Among the new choices are a variety of activities in Icy Strait Point, as this season Princess begins calling regularly at this uniquely Alaskan port near the state's largest Tlingit community.
"There are so many ways to experience Alaska, and we want to offer passengers the full breadth of the options available in each of our ports," said Charlie Ball, president of Princess Tours. "These local tour operators offer great ways for our passengers to experience the wildlife, natural beauty, native culture and thrilling adventures available throughout this great state."
Alpine Zip and Glacier Adventure (Juneau) — Passengers can fly through the trees in a scenic alpine rainforest, plus visit Juneau's breathtaking Mendenhall Glacier. Participants will have a bird's-eye view as they take a thrilling ride from tree to tree over multiple zip lines surrounded by snowcapped mountains.
Bike and Tram Elevation Sensation (Juneau) — Visitors can combine the exhilaration of a bike ride descending 1,200 feet through the Tongass National Forest with an effortless 1,800-foot ascent on the Mount Roberts Tramway.
Private Salmon Fishing and Wildlife Cruise (Juneau) — The unique opportunity to relax on a private, all-inclusive marine adventure that can include fishing, whale watching and sightseeing, depending on what passengers wish to do. Up to six passengers can enjoy this personalized VIP experience.
Coastal Wildlife Cruise (Ketchikan) — A high-speed boat ride into the wilderness to search for black bears, orcas, eagles, humpback whales and other wildlife on the move. Specially designed for wildlife viewing, the boat provides a prime bear-watching venue.
Taste of Skagway (Skagway) — The unique flavors of the "Gateway to the Klondike" offer up a gourmet delight with a tour that takes passengers to Jewell Gardens for a taste of delicacies made from the garden's own organic ingredients as well as the opportunity to sip fine Alaska wines. At the Gold Rush Brewery, visitors can sample three locally brewed beers and "gold nugget" appetizers — corn fritters with honey butter.
Tribal Dance and Cultural Legends (Icy Strait Point) — An opportunity for visitors to immerse themselves in the local Tlingit culture at an interactive performance showcasing the rich heritage of the original inhabitants of Glacier Bay.
Wild Alaska Culinary Extravaganza (Icy Strait Point) — A culinary demonstration and hands-on cooking course where visitors can learn about the local seafood, with guidance on filleting and cooking fish such as salmon and halibut as well as how to cook, crack, clean and eat a crab with style. The excursion concludes with a family-style feast.
Remote Wildlife and Brown Bear Search (Icy Strait Point) — A trip to explore the wilds of Chichagof Island in search of the Alaska coastal brown bear — otherwise known as the grizzly bear — and other local wildlife.
Ziprider Adventure (Icy Strait Point) — At 5,330 feet, the Ziprider cable ride is the highest zip line in the world. Six riders can zip at the same time on parallel cables, so it's a race to the bottom on an exhilarating ride at speeds up to 60 mph.
Hoonah Bike Trek (Icy Strait Point) — An eight-mile ride through Alaska's largest Tlingit settlement, with experienced guides to lead riders through the scenic coast and rainforest, and explain local life as visitors pedal through the village of Hoonah.
Glacier Bay Flightseeing (Icy Strait Point) — Passengers can get a bird's-eye view of the majesty of Glacier Bay National Park and Preserve, one of the state's most dramatic attractions. Visitors will fly past waterfalls, lakes, deep crevasses and the azure blue meltwater pools that make up the park, as well as the mighty Brady Glacier.
All Alaska Adventures Ashore excursions are currently available for pre-reservation. Passengers who are already booked on an Alaska cruise can reserve their tours by logging on to the Cruise Personalizer on princess.com, to ensure they get the excursions of their choice. As many tours fill up quickly, passengers are encouraged to make selections as early as possible.
Princess Cruises will celebrate the 50th anniversary of Alaska's statehood in 2009 with a full season of cruisetour and cruise itineraries showcasing the best of the state, including the incomparable Denali National Park and Glacier Bay National Park. Throughout the May 9 to September 14 season, the Princess fleet will offer a total of 130 Alaska sailings, featuring the line's signature Gulf of Alaska sailings, Inside Passage routes from Seattle and San Francisco, and a small ship experience on 14-day Connoisseur voyages to some of the state's less-visited ports. In addition, Princess will again take more passengers to the ice-filled wonder of Glacier Bay than any other line, with 81 visits (all Gulf and Connoisseur voyages).
Courtesy of Holland America Line
Imagine sailing with a well-known executive chef from a famous restaurant or an inspiring culinary television personality. Holland America Line's Culinary Arts Center program makes these dreams a reality by inviting chefs from kitchens and restaurants all around the country and making them part of the guest enrichment program. While on board, the guest chefs and experts offer culinary demonstrations, tastings and hands-on cooking classes to guests, in addition to participating in question and answer sessions. [Read more →]
Courtesy of Carnival Cruise Line.
As part of a pilot program, a huge, new inflatable laser tag arena is being periodically placed on the stage of the Carnival Valor's main lounge.
The on-board attraction operates at various times throughout the day (and even a few night sessions) and thus far hundreds of guests have challenged their friends and fellow guests to a thrilling round of laser tag. [Read more →]
By Michael Harris, Sales Manager, The Cruise Web.
Perhaps there is no vacation destination better known than the Caribbean. Soaked with sun, rooted in history, and surrounded by some of the bluest water known to man, it's no wonder so many cruise ships call this area home 365 days of the year. At any given time, the islands are a destination for families and singles, novice cruisers and world travelers and everything in between. They all come to enjoy the same tropical tones that radiate from some of the earth's most vibrant waters, beautiful beaches and character-filled towns. [Read more →]
By Sherry Jefferson, Cruise Consultant, The Cruise Web.
In September of last year, I had the pleasure of taking a cruise in the beautiful Mediterranean!  This trip was filled with extraordinary beauty and surprising history, so much so, that I had to share it
with you!  This fabulous Eastern Mediterranean itinerary included the ports of Naples and Messina in Italy, the Greek Islands of Rhodes, Mykonos and Santorini, Piraeus, Greece (the port for Athens), and Kusadasi, Turkey.
The Cruise began in Civitevecchia, the closest port to Rome, Italy.  If you have never been to Rome, I highly recommend you do not miss the spectacular history and culture that awaits you there!  From the Colosseum to Vatican City, there is so much to see and experience in Rome.  If you can allow the time, a few days in Rome, either before or after the cruise, is a must. [Read more →]
Courtesy of
Cunard Line
Cunard Line revealed itinerary and design plans for its newest ocean liner, Queen Elizabeth, which is scheduled to enter service on 12 October 2010, giving one of the oldest names in shipping the strength of operating the youngest fleet in the industry. Queen Elizabeth will be the third new ocean liner to be introduced by Cunard in six years and the second largest Cunard ship ever built.
Queen Elizabeth will feature the unique Cunard traditions linking her with her sisters Queen Mary 2 and Queen Victoria, and their predecessors. She will also debut some exciting features that will give the vessel her own style and personality, plus all the modern day luxuries Cunard's guests have come to expect.
[Read more →]
by Frans Hansen, President, The Cruise Web.
The recent economic climate has been one of the most difficult and the most personal that almost every one of us has experienced.   Each of us has been affected by the downturn in one way or another, and we all have family members, friends, or colleagues that have lost their jobs.  Those of us who have kept our jobs, have had to tighten our belts, eliminate wasteful spending, and build our reserves. If you look hard enough, however, there is usually a silver lining in every cloud!
Like most industries, the downturn has made business more challenging for travel retailers. Here at The Cruise Web, every manager and employee has been working harder than ever, to keep the company on budget during this difficult economy.  [Read more →]
By Heather Wasson, Sales Manager
The Cruise Web had an amazing opportunity to experience Royal Caribbean's west coast inaugural sailing of the Mariner of the Seas.  Such inaugural sailing opportunities are a benefit of working at The Cruise Web!  These opportunities are invaluable as they allow The Cruise Web's consultants to experience first-hand all the ship and itinerary has to offer. The Cruise Web also provides its staff with extra time off to experience cruise offerings. The Cruise Web encourages continued learning via trainings, ship tours, and even sailings with their cruise line partners.  The Cruise Web knows that, by investing in its staff, its consultants will be able to provide the best service to its clients. 
Back to the inaugural experience itself.  The Mariner of the Seas is now the most spectacular cruise ship on the West Coast.  Built in 2003, this 138,000 ton, 3114 passenger ship provides a great opportunity for large ship cruising on the Mexican Riviera.  You can take advantage of all that a large ship has to offer — from the rock-climbing wall, ice-skating rink, mini golf course to the Royal Promenade, gym, spa and specialty restaurants.  On top of the typical things a sailing would have to offer, Royal Caribbean executives were on-board the inaugural cruise for invaluable question and answer sessions.  The cruise line executives addressed relevant questions from the attending cruise consultants .  [Read more →]
Cruise Consultant Tina Colicchio came across an old picture of her and her daughter and is considering going back to the hair style that brought her so much happiness in the past. 
"I think I can bring this back, as long as Aquanet still sells the industrial-sized cans" stated Tina.  The Aquanet cans might not be the only issue she has to overcome, since the 80′s global warming and the holes in the ozone layer have become major issues that are passionately debated.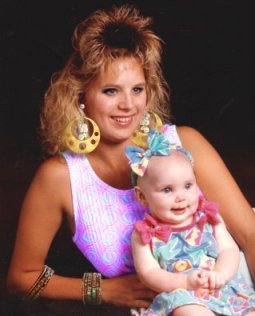 "If Tina brings back that hairstyle and it catches on, the effect it could have on global warming would be catastrophic" noted Nobel Prize recipient and environmentalist Al Gore. "I don't know if the Earth can withstand that barrage of daily chlorofluorocarbons (CFC's)."
Tina promises to make her decision within the coming weeks, as she has stumbled across a box of her old tape cassettes, featuring the likes of Duran Duran and Cindy Lauper. "I'm confident that George Michael and Wham will guide me in the right direction." We hope so, Tina. We hope so.
Courtesy of Norwegian Cruise Line
Norwegian Epic, NCL's largest Freestyle Cruising ship to date, set for delivery in May 2010, will feature the biggest ship-within-a-ship suite complex at sea, comprising 60 suites and villas on two private decks at the top of the ship. Guests staying in one of these suites will have exclusive access to the Courtyard Villa complex featuring a pool, two whirlpools, gym, saunas, sundeck, indoor/outdoor dining, bar/nightclub and concierge lounge. [Read more →]